Listen to Alejandro Sanz's album + Es + El Concierto / En Directo En El Estadio Vicente Calderón, it's brilliant
Alejandro Sanz's album + Es + El Concierto / En Directo En El Estadio Vicente Calderón is brilliant
On June 24th this year, superstar Spanish singer Alejandro Sanz performed a live concert in the Vicente Calderon Stadium in Madrid in front of 50,000 people.
Not just any concert, though, but one to celebrate the 20th anniversary of his massive hit album Más (More), which is the biggest ever selling album in Spain, and a concert with a huge list of guest singers:
Antonio Carmona, Laura Pausini, Antonio Orozco, Niña Pastori, Dani Martin, David Bisbal, Miguel Bosé, India Martinez, Jesse & Joy, Juan Luis Guerra, Juanes, Malu Manuel Carrasco, Miguel Poveda, Pablo Alboran, Pablo Lopez, Pastora Soler, Vicente Amigo, and Vanesa Martin. 
And now, in celebration of that amazing night, Sanz has released a new live album — '+ Es + El Concierto / En Directo En El Estadio Vicente Calderón'.
The album came out on December 6th, is already selling like hotcakes, and is utterly addictive. Whether you are a massive Alejandro Sanz fan like me, or just love listening to some of the best singers in the Latin music world.
'+ Es + El Concierto / En Directo En El Estadio Vicente Calderón' includes tracks like 'Hoy Que No Estás ' sung with Dani Martin, 'He Sido Tan Feliz Contigo' with Pablo Alborán, 'La Fuerza Del Corazón' with Laura Pausini,  'Si Hay Dios' with Pastora Soler, 'Cuando Nadie Me Ve / Cai' with Niña Pastori and 'Deja Que Te Bese' sung with Vanesa Martin.
In fact, so many gorgeous songs performed along side some of the world's most iconic Latin singers, there really isn't a dud among them.
Alejandro Sanz's '+ Es + El Concierto / En Directo En El Estadio Vicente Calderón' is  nowavailable on all digital music platforms for purchase.
You can also watch his performance with Italy's Laura Pausini in the video below, and listen to the entire album (over and over and over again) in the Spotify widget below that.
Once you do, I guarantee you, this album will be on your Play Over and Over Again list for weeks. it is brilliant.
Related: Watch Alejandro Sanz and Malú Sing 'Aprendiz' Live — it's a stunning performance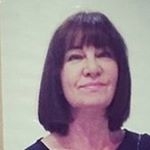 Latest posts by Michelle Topham
(see all)