Ann Sophie's 'Silver Into Gold' is f*cking fabulous
Since I dumped Spotify for Deezer a few days ago (Spotify blocks their service in Thailand where I live, and in most other countries outside Europe, the Americas and the US, Deezer does not), I've been spending hours checking out albums, and adding my favorites to a Deezer list for future listening.
One such album I came across today, and immediately added to my favorite albums list, was Ann Sophie's Silver Into Gold. Ann Sophie, of course, was Germany's representative to Eurovision 2015. Her album, her first with a major label, is called Silver Into Gold, and I can't say anything more about it than "Jesus, girl, it's f*cking fantastic".
Now, remember, this comes from someone who loved Ann Sophie the first time I watched her in Germany's Eurovision national selection competition, as I thought she was an impressive live performer with amazing stage presence. I just wasn't a huge fan of her Eurovision song 'Black Smoke', as I preferred 'Jump The Gun', the other song she sang in the competition.
Well, a couple of listenings of her new album Silver Into Gold and I've been bopping around my apartment to 'Black Smoke' like a dance champion. Not only has it 'grown on me', it's fabulous.
Because the thing is with Ann Sophie, even when she's singing uptempo sings, with that funky twang she has to her voice she still sounds tragic and wronged. And I love that.
Other tracks on this incredible album are also stunning.
From the stripped down more uptempo title track 'Silver Into Gold', which is that song you want to dance to in the clubs when you're feeling like the coolest girl there, to the poignant ballad 'I Believed' with its beautiful piano accompaniment — a perfect showcase for Ann Sophie's crystal clear, heart-breaking sound — and the equally sad country-inspired 'Lie To Me', Silver Into Gold is full of regret, heartache and sorrow. And it is one spectacular album.
In fact, for me, it wasn't even my usual 'grower'. It was an album that smacked me on the head from the third track and made me love it, as well as made me realize even more that I already did what a talent Ann Sophie is.
All I can say is, zero points at Eurovision or not (and what b*llshit that was), this girl is going far. I guaranf*ckingtee it.
Now, if you want to learn a little more about the fabulous Ann Sophie, there's a nice interview with her before Eurovision on DW.
Otherwise, listen to Silver Into Gold on Deezer (you can listen to it in its entirety if you register for a free account), but put aside a few hours as this one is an automatic on repeat and repeat and repeater.
Then buy it as you are going to love it.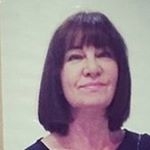 Latest posts by Michelle Topham
(see all)