Listen to Blondie's 'Atomic' and watch the original music video
The classic Blondie track 'Atomic' showed up on the first episode of the new Netflix series Chilling Adventures of Sabrina this week.
It was played as Sabrina and her friend go to the school office while the principal is absent, and get their WICCA club approved.
Blondie's 'Atomic' was first released in 1979 by the new wave band on their fourth studio album Eat to the Beat.
The track was the fourth single from the album and, while it only made it into the Top 40 in the United States, it was the rock band's third number one single in the United Kingdom.
And, even though many fans of 'Atomic' thought it had something to do with nuclear war, it didn't.
Instead, it was just a word song writers Debbie Harry and Jimmy Destri used to signify power.
Watch the original music video for Blondie's 'Atomic' below. It features shots of nuclear bombs going off, and the band playing the song in a futuristic, post-apocalyptic club.
You can also listen to Blondie's 'Atomic', and the entire Platinum certified album Eat to the Beat, in the Spotify widget below that.
Related: Listen to IZA's 'I Put A Spell On You' from Chilling Adventures of Sabrina — her voice is massive!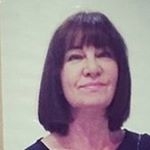 Latest posts by Michelle Topham
(see all)