Denmark + Winter's cover of 'Don't Fear The Reaper (Re: Imagined), the Blue Oyster Cult classic released in 1976, was featured on The Originals (Season 3, Episode 22 — "The Bloody Crown") on Friday night (May 20th). It was played when Vincent talks about taking the church back and turning it into a sanctuary.
And what makes this so very different than the original track is Denmark + Winter has changed the song from a cool 'hippy' rock song with a wicked guitar riff to one that has a beautiful piano refrain and is slower, more alternative and much more dreamy. Lovely.
As for Denmark + Winter, they are a bit mysterious. They are a duo/a band? who record their own version of classic songs — like Police's 'Every Breath You Take', which was featured on The Vampire Diaries last year — most of which tend to be ethereal and dreamy, and then occasionally release them. Other than that, little is known about them.
In fact, if you have heard some of their previous releases, it looks like, until they decide otherwise, we are just going to have to enjoy what we get from them and put up with the limited information we have.
I have to say, though, that's not so hard to do as you will love songs like Denmark + Winter's cover of 'Don't Fear The Reaper', as it is gorgeously done. Listen to it below.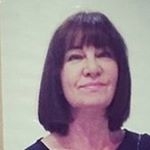 Latest posts by Michelle Topham
(see all)