Along with the gorgeous and iconic Radiohead track 'True Love Waits' being played on last night's episode of Legion last night,  (Season 2, Episode 10, "Chapter 18″) we also got a much harder rock track that was also iconic in another way — the Jane's Addiction song 'Ocean Size' — and a true classic hard rock song of its era.
'Ocean Size' was the third single from Jane's Addiction's first major label studio album Nothing's Shocking.
Released in 1988, the album spawned three singles, including 'Ocean Size', but with the most successful being 'Jane Says', which made it to the number six spot on the Billboard Modern Rock Tracks.
At the time of its recording and subsequent release, however, the members of the band — vocalist Perry Farrell, guitarist Dave Navarro, bassist Chris Chaney and drummer Stephen Perkins — were arguing more than they were getting along. Arguments and problems continued, until Jane's Addiction broke up for the first time in late 1991.
In my mind, even with subsequent gettings back together, the band never did produce the same quality of music that they did before the split.
Listen to Jane's Addiction's 'Ocean Size' in the official music video below. You can also hear the track below that in the Spotify widget.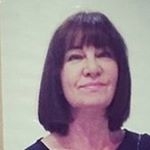 Latest posts by Michelle Topham
(see all)