British singer songwriter Joe Jackson's 'Steppin' Out' was that cool song playing on School Spirits this week as Wally dances to it like he's in a musical — School Spirits, Season 1, Episode 6, "Grave The Last Dance".
The upbeat electropop track originally came out way back in 1982 as the third single from the singer's fifth studio album Night and Day.
It was a big success in the United States and the UK — charting on five charts in the U.S., even getting to #6 on the Billboard Hot 100, and #6 on the UK Singles chart — as well as hitting charts in five other countries.
The song was also nominated for two Grammy Awards.
'Steppin' Out' itself was written about the thrill of heading out on the town, anticipating how much fun you're going to have:
Me babe, steppin' out
Into the night, into the light
You babe, steppin' out
Into the night, into the light

We are young but getting old before our time
We'll leave the TV and the radio behind
Don't you wonder what we'll find
Steppin' out tonight
The track's popular music video has earned Joe Jackson over 23 million views on YouTube alone.
The video features a woman heading out for the night interspersed with shots of Jackson playing the piano in a hotel room and singing as a maid cleans around him.
We then see the maid in another room, picking up a dress and imagining herself also out on the town.
Listen to Joe Jackson's 'Steppin' Out' from Episode 6 of School Spirits in that music video, and on his Night and Day album.
And yep, Wally dancing was the best scene of the episode.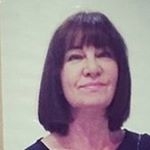 Latest posts by Michelle Topham
(see all)