If you watched the new FX series Better Things on Thursday night (September 8th, 2016), (which is getting superb reviews, by the way) you will have heard that classic Joni Mitchell song 'Both Sides, Now'.
It played during the flashback, when Sam (Pamela Adlon) starts to walk away from her ex's door only to have him rush out and lift her off her feet.
And it is such a beautiful and perfect song when it comes to how we often perceive love, (and how Sam is now looking back on her life and what came after that scene). Even though that is not why Mitchell wrote the song.
But listen to those lyrics,
"I've looked at love from both sides now
From give and take and still somehow
It's love's illusions I recall
I really don't know love at all
Tears and fears and feeling proud,
To say "I love you" right out loud"
Because don't we all feel like that? We think we understand love, but when reality hits, we realize we don't understand it at all. And to say "I love you" out loud? Hell. That is just the scariest thing.
Listen to Joni Mitchell's 'Both Sides, Now' in the video below. It is quite astounding to think she wrote that song in her 20s and then, on this recording from 2000, lent her wisdom to it to give it even more richness and depth. Just beautiful.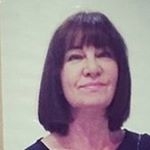 Latest posts by Michelle Topham
(see all)