There was a gorgeous cover version of 10cc's classic song 'I'm Not in Love' that showed up on the new episode of HBO's Euphoria this week — Season 1, Episode 7, "The Trials and Tribulations of Trying to Pee While Depressed".
The track is Kelsey Lu's 'I'm Not in Love', and it made that disturbing, hypnotic scene with Jules even more eerie, haunting and beautiful.
And what I love about Lu's version of the song (well, it's sung by a woman first and foremost, and I do love supporting female artists) is that, while it sticks close to the original throughout the first couple of minutes, it then floats off to become even more hers.
Because she has duplicated her vocals and then laid then down over each other, to create a gorgeously intricate and completely eerie choral sound. Making it seem almost like a group of sirens — those mythical women who lured men to their deaths, by causing them to crash their ships on the rocks as they became mesmerized by the sirens' singing.
The music video for 'I'm Not in Love' is also more like a short art film, with its fuzzy shots and short snippets of Kelsey Lu lifting weights topless, chopping off her long, thick braid, dancing unself-consciously in a window, and falling backwards onto a bed naked.
It becomes even more artistic in feel as we see her bloody body being dragged backwards down a hallway, leaving furrows in the blood where her heels pulled.
Who is Kelsey Lu?
A North Carolina native, Kelsey Lu was brought up as a Jehova's Witness.
At 18 years old, she went on a blind audition to the North Carolina School of the Arts, where she was ultimately accepted on a full scholarship.
After graduation with a degree in Music, Lu moved to New York. where she began collaborations with a slew of indie and mainstream musicians. These included Lady Gaga and indie pop band Wet.
She released her own sophomore album — Blood — earlier this year.
Listen to Kelsey Lu's 'I'm Not in Love' in that artistic music video I was talking about below.
You can hear her album Blood, which includes 'I'm Not in Love', in the Spotify widget below that, learn more about her on Everipedia, and keep track of her upcoming concert dates on Kelsey Lu's website.
Related: Listen to more Euphoria songs, and learn about the artists that created them here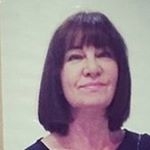 Latest posts by Michelle Topham
(see all)