Oh now this one is so darned catchy.
I'm talking about Welsh singer songwriter Marina's 'About Love', one of the superb songs featured on the new Netflix film To All The Boys: P.S. I Still Love You this month.
'About Love' is the track that was played right at the end of the movie — during the scene when Lara Jean is explaining how she feels about love as she walks hand in hand with Peter — "I wouldn't change a thing, because everything that's happened has brought us here. This is our story. And we're still at the beginning",.
And then she and Peter kiss.
The song continues to play over the film's end credits.
Along with most other songs from To All The Boys: P.S. I Still Love You, Marina's 'About Love' is available on the film's soundtrack,  which was just released this month (listen to it below).
Marina, aka Marina Lambrini Diamandis, is also currently working on her fifth studio album. It is the follow up to her 2019 studio album Love + Fear.
That album only received mixed reviews from critics, but still did quite well on the charts in 17 countries, even making it to the 5th spot in the UK and the 4th spot on the Scottish album chart.
Marina's fifth album is expected to be released sometime in 2020.
Meanwhile, the singer is kicking off a small tour in April.
She is calling it the 'The Inbetweenie Tour', because it's a 6-date tour that will be going on in between her 2019 and 2020 album releases with concerts in Las Vegas, Santa Barbara, San Diego, Phoenix and both Coachella weekends.
Check out all six dates in the tour graphic above.
And, of course, listen to Marina's 'About Love' from To All The Boys: P.S. I Still Love You in the song's lyric video below,
Plus, if you loved more of the songs from the movie, and who doesn't, you can re-listen to them in full in the Spotify player at the bottom of this article too.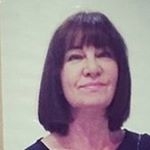 Latest posts by Michelle Topham
(see all)