Listen to Overcoats' 'Father' from Grey's Anatomy — perfect for April storyline
It has been a good seven days for folk-soul electronic duo Overcoats. Not only was their song 'Nighttime Hunger' featured on last week's episode of Grey's Anatomy, but another song 'Father' showed up on this week's episode of the same show — Season 14, Episode 10, "Personal Jesus" (25th January).
It was heard as Eric is rushed to the operating room as his family look on, and April is told she is not needed for Eric's operation. It was perfect for that April storyline.
It also seems the Grey's Anatomy music supervisor is a big fan of Overcoats.
The Overcoats' song 'Father' was released in April last year on the duo's debut album YOUNG. It was written by Hana Rose Elion and Justine Mitchell, aka Overcoats, in collaboration with Adley Arthur Atkin, and is a very short but very powerful song with just one verse that is repeated three times —
My father understands the demons I wrestle with in my daydream
And knows what to say when they are winning
And I go spinning all night
Screaming, "I don't need your help"
He knows that means I need it bad
The album itself was called "one of the best albums of 2017" by NPR.
Listen to Overcoats' 'Father' in the official audio video below. Then check next week's episode of Grey's Anatomy to see if this duo with the gorgeous harmonies show up again. I'd say there is a pretty good chance they might.
Related: Listen to Jill Scott's gorgeous song 'You Don't Know Me' from Grey's Anatomy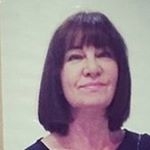 Latest posts by Michelle Topham
(see all)