Listen to Patsy Cline's 'Heartaches' from Gotham
The music supervisor on Gotham decided to go back into the archives when it came to one of his choices for music for the latest show in the series this week, when he chose Patsy Cline's 'Heartaches' to illustrate a scene — Season 4, Episode 10, "Things That Go Boom".
'Heartaches' was heard playing in the day room of the Arkham Asylum, until Pyg arrives and changes the record.
Cline's 'Heartaches' was released in 1962 as part of Sentimentally Yours. An album that was the last one released during Cline's lifetime, as she died in a plane crash only seven months later on March 5th, 1963 at the still young age of just 30.
The song itself, however, was not an original for Patsy Cline as it was written in 1931 and was recorded by a slew of other musicians before Cline recorded her version. Other versions include those by Connie Francis, Chet Atkins, Kenny Ball and Harry James.
Listen to Patsy Cline's version of the song in the video below. It's one of those lovely old-fashioned songs that sounds quite happy but, when you listen to the lyrics, you realize it's not.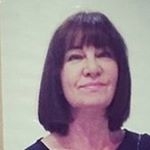 Latest posts by Michelle Topham
(see all)