It was lovely to hear the late Ruby Murray, an Irish singer who was still pretty big in the UK when I was growing up, show up on the soundtrack of the new Hulu film No One Will Save You this week.
The song — Ruby Murray's 'Knock on Any Door' — also got quite a lot of airplay throughout the film, as it first began playing as Brynn grabs the parcel, heads inside and begins to dance to the song.
Advertising
We hear it again as the song begins playing by itself in the middle of the night, again as the power comes back on and the song starts up, and yet again at the end of the film as Brynn heads to the dance and dances to it with the mailman.
She then continues to dance to the 1950s track with other people.
When was Ruby Murray's 'Knock on Any Door' released?
While 'Knock on Any Door' is not one of the singer's most popular songs, it was one of several songs the Irish singer released between 1954 and 1959 that grabbed the British public's attention.
In its case, the track came out in November, 1956 on the Columbia/EMI record label as the B-side of her hit single 'True Love'.
'Knock on Any Door' was recorded with Norrie Paramor And His Orchestra And The Bill Shepherd Chorus, who provide those gorgeous backing vocals at the beginning and throughout the song.
Advertising
Murray herself had a thriving singing career in the UK throughout the 1950s and into the early 60s, releasing several hit singles and earning acclaim when she had five songs in the British Top 20 in the same week.
Ruby Murray, a decades-long alcoholic, sadly died in 1996 at the age of just 61-years-old due to liver cancer.
Listen to Ruby Murray's 'Knock on Any Door' as heard throughout No One Will Save You in the video, and via the album EMI Presents The Magic Of Ruby Murray in the Spotify widget below.
The song itself helps add an even creepier atmosphere to an already very creepy film.
You can watch No One Will Save You via Hulu.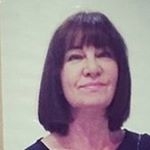 Latest posts by Michelle Topham
(see all)