The classic Shirley Temple song 'Animals In My Soup' showed up on the latest episode of the Stephen King horror series Castle Rock this week — Season 1, Episode 5, "Harvest" — August 8th, 2018.
It was played at the beginning of the episode as The Kid wanders around town, and is attracted to a Shirley Temple song coming from one house.
When he looks through the window, it is obvious a small child's birthday party is going on.
But it all gets creepy when The Kid concentrates on the birthday cake knife, and suddenly the parents are shouting at each other and all the kids are crying.
Of course, hearing Shirley Temple's 'Animals In My Soup' added even more creepiness to the scene even though, the song itself is actually quite cute.
'Animals In My Soup' was first released in 1935 in the movie Curly Top, and was a big hit for the seven-year-old child actress at the time of its release.
Listen to the song below in the original scene from Curly Top. She is adorably cute, and that song is one of those you will still be humming days from now — and probably wishing you weren't.
Castle Rock stars André Holland, Melanie Lynskey, Bill Skarsgård, Jane Levy, and Sissy Spacek. It is a 10-episode series currently available on Hulu.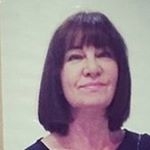 Latest posts by Michelle Topham
(see all)