Maraaya, Slovenia's representatives to the Eurovision Song Contest 2015, have just released their official 'Here For You' video, and it's one of the most interesting videos of the Eurovision batch.
The Slovenian duo and their song 'Here For You' are also one of the favorites in the competition so far, with a fair number of fans feeling they'll make it to the Top 5. Musically, it's not really my cup of tea but I can definitely see why so many people like it.
It's a catchy yet quirky indie pop song, Marjetka's voice (she's the female part of the duo) is unusual, and the violin sections of the song are also different than what we normally get at Eurovision.
As for the other half of the duo, he's Raay, a very successful music producer in Slovenia. Together, they are Maraaya as well as husband and wife, and the parents of two young boys.
Marjetka, you have probably noticed, always wears headphones when she sings. She says it's because wearing them evokes the same feelings she has when she's in the studio recording, and she likes to feel that while she's on stage as well. So I'm presuming she's also be doing that on the Eurovision stage in Vienna.
Interestingly too, 'Here For You' was co-written by Raay along with Charlie Mason, the same writer who co-wrote 'Rise Like a Phoenix', the song that helped win Eurovision 2014 for Austria and Conchita Wurst. The musical genre for Maraaya's song, though, is completely different.
Listen to it below, and let me know what you think in the comments section.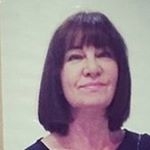 Latest posts by Michelle Topham
(see all)