If there is one thing to deduce from Mark Ronson's new album Late Night Feelings, it's that he obviously loves powerful women.
After all, if he didn't, he wouldn't have chosen Angel Olsen to collaborate with on his new single release 'True Blue'.
Nor would he has have worked with Miley Cyrus, Lykke Li , Camilla Cabello or Alicia Keyes. All incredibly powerful women who are featured on their own Late Night Feelings' tracks.
Mark Ronson's 'True Blue' was released today, along with his latest album. The song begins with Angel Olsen almost as a 1920s Hollywood star, singing about the ending of a relationship.
A relationship that had more problems than not.
The track then morphs into a huge disco song, complete with pounding beat and soaring Angel Olsen vocals.
In a press release, Olsen said about the collaboration with Ronson:
I wasn't sure what it would be like to work with Mark, considering we are both from different production worlds..but it was such a fun, organic experience for me. Seriously, he gave me full reign to try things out—I even play a little guitar on the track (not that I'm a virtuoso player or anything).
At the time I'd been listening to a lot of dark disco, specifically Nico's dance version of Heroes. I wanted to make something dark like that, but also something people could skate to. A true roller rink song. Hearing the final track back was so rewarding for me. I can't say it enough. I hope to play it live! I'm excited to hear the record in its entirety.
Gotta say, I was excited when I heard it too.
Listen to Mark Ronson's 'True Blue' featuring Angel Olsen, and written by both of them, in the video below to see what I mean.
His fifth studio album Late Night Feelings was released this morning. You can listen to that, along with all his song collabs with powerful female singers, in the Spotify widget below.
Related: Miley Cyrus and Mark Ronson cover of 'No Tears Left to Cry' proves Cyrus can definitely sing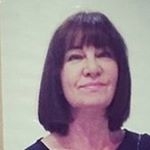 Latest posts by Michelle Topham
(see all)