I'm probably one of a few hundred thousand people who desperately wait for a new Of Monsters and Men lyrics videos. Because, with every new lyrics video this fabulous Icelandic band releases, they never disappoint.
So, when I saw the new lyrics video for 'Wolves Without Teeth' popping up in my YouTube subs box early this morning I was ecstatic, as it was bound to be something special.
And, as I predicted, the video is perfect. Because Of Monsters and Men have this theme going lately. A theme where they choose an actor (in the case of 'Wolves Without Teeth', actors), and film them in black and white lip syncing to the song. The result is always a video that is powerful, emotional and beautiful.
Of Monsters and Men's lyrics video for 'Crystals' is gorgeous
In the case of the 'Wolves Without Teeth' lyrics video the actors are twins — Erna and Hrefna Jónasdóttir. Twins who, at the age of only 15, have a remarkably strong presence on camera.
And what also makes this lyrics video incredibly interesting is, when it first starts it seems to be a video of just one person that has been shot twice and then had one video overlaid upon the other to create the illusion of twins. Look more closely, though, and it becomes obvious the girls actually are twins. As, even though they are so similar, they are also very different.
Keep looking too and you'll see how one definitely has a more male vibe going as she lip syncs to the vocals of male lead singer Ragnar Þórhallsson, almost as if she is channeling his spirit. While the other twin (sorry, girls, I don't know which of you is which) is slightly softer and has a more feminine vibe in this as she is portraying female lead singer Nanna Bryndís Hilmarsdóttir.
Both girls are lovely to watch.
You can find out more about Erna and Hrefna Jónasdóttir from a nice piece The Guardian published about them last year, as they are apparently currently the subjects of a years long photography project by a Japanese photographer.
And, of course, watch Of Monsters and Men's lyrics video of 'Wolves Without Teeth', one of my favorite songs from their latest fabulous and hit album Beneath The Skin. You can grab the album on all major digital music platforms now.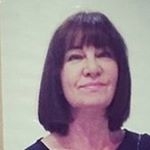 Latest posts by Michelle Topham
(see all)