Oingo Boingo's 'Just Another Day' adds the right atmosphere to Stranger Things
Many of the songs featured on TV shows I have been showcasing this week are from the second season of the astoundingly popular Netflix series 'Stranger Things'.
It's hard not to, though, as this series really does have a spectacular soundtrack.
Case in point, the Oingo Boingo song 'Just Another Day'.
It showed up  to add the right atmosphere to the police station scene on the first episode of the second series of 'Stranger Things'. An episode called MADMAX, and one that also featured superb music from Devo, The Romantics, Scorpions and Gary Paxton.
'Just Another Day' is from Oingo Boingo's 1985 album Dead Man's Party. So, that it showed up on 'Stranger Things' during a scene supposedly taking place in 1984 is a little odd. But hey, it's TV. Artistic license and all that.
Listen to Oingo Boingo's 'Just Another Day' in the band's official music video for the song below.  It is difficult not to find that addictive, isn't it?
Related: Listen to Devo's 'Whip It' from Stranger Things, and watch the cool original music video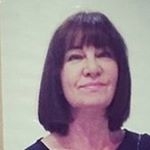 Latest posts by Michelle Topham
(see all)