Paola Turci's 'Off-Line' is wonderfully dramatic showcase of her gorgeous voice — Repeat Rotation Video
Italian singer songwriter Paola Turci's new single 'Off-Line' is my Repeat Rotation Video today.  Because, just back from a fabulous holiday in Spain, I was in the mood for some of that incredible Latin emotion and Turci's 'Off-Line' hit the right spot. In both song and dramatic video.
Paola Turci's 'Off-Line' is from her latest studio album Il Secondo Cuore, released in March this year, and it showcases her amazingly sexy, hoarsely gravely voice perfectly.
The song also has a memorable melody and a chorus that really sticks in your head. Whether you actually speak Italian or not.
And, coming up in December, I'm going to be writing about far more female singers and female-led bands on Leo Sigh than male. As, frankly, I'm getting more than a little sick of we women supporting so many men in the music industry, while most of them do little to support us back.
So, December will be Women's Month here on Leo Sigh. Paola Turci's video for 'Off-Line', which you can watch below, is just a taste of what you can expect to hear. Enjoy!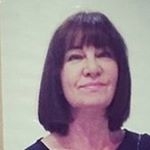 Latest posts by Michelle Topham
(see all)