Pearl Jam's Eddie Vedder dedicates 'Long Road' to Anthony Bourdain, after food critic commits suicide
Anyone who knows anything about the late food critic, storyteller, journalist and writer Anthony Bourdain probably knows he was a huge music fan. So much so, he was friendly with many of the world's top musicians. Including Pearl Jam's Eddie Vedder.
That is why, at an Amsterdam concert at the  Ziggo Dome on June 12th, Vedder paid tribute to Anthony Bourdain, after the 61-year-old Bourdain died last week of an apparent suicide.
The tribute came in the intro to the American rock band's song 'Long Road'. A song that couldn't have been more appropriate for Bourdain, with the lyrics:
And I wished for so long. Cannot stay.
All the precious moments. Cannot stay.
It's not like wings have fallen. Cannot stay.
But still something's missing. I cannot say, yeah.
Vedder introduced the song in Dutch, and then said in English:
"We dedicate this to Anthony, my friend David, his brother Andrew. They are deep in our hearts tonight and we thank you." (David — the husband of designer, Kate Spade, who sadly also committed suicide last week).
Watch Pearl Jam's Eddie Vedder dedicate 'Long Road' to Anthony Bourdain in the video below.
All the phones, by the way, are not just because of our present phone obsessed younger generation, but also because Vedder asked the crowd to turn on their phone's lights and hold them up.
Pearl Jam is currently in the midst of a European tour, which will be followed by concerts in North America. You can check out dates on the band's website although, if you are looking for tickets, every concert is already sold out.
Related: Pearl Jam's 'Crazy Mary' is still one of the best songs the band has ever released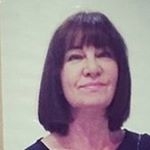 Latest posts by Michelle Topham
(see all)