Pentatonix's Kirstin Maldonado first single 'Break a Little' is sad but oh so pretty
It's been rumored for a while that Pentatonix member Kirstin Maldonado was heading for a solo career and, with the release of her first solo single 'Break a Little' yesterday (Friday, May 19th, 2017), it's confirmed. The single also got an official video.
According to Maldonado, 'Break a Little' is about the self-destructiveness of wanting something that is bad for you. And, with the way it's written and the uplifting feeling of the song, it's a song that will make you feel deceptively happy only to realize, when you listen to the lyrics, it's actually incredibly sad.
Sad because we have all experienced wanting someone so badly, but knowing in our gut that it's such a bad idea we should run screaming in the opposite direction as fast as we can.
As Maldonado explained in a press release about the track, "I always wanted to write a sad song that sounds happy. I think everyone can relate to this emotion. It's about longing for something. You're attracted to a vice or person you know you shouldn't come back to, but you can't help it."
And, if Maldonado's 'Break a Little' is indicative of what we can expect on her upcoming debut EP, due for release sometime this summer, I'd say we're in for a winner. Because the electro-pop track may be sad, but oh it and her both sound so incredibly pretty.
Her debut EP L O V E will be released on the RCA label. She will release it under the mononym Kirstin.
Listen to 'Break a Little' in the official video below. A dark and gloomy video starring Kirstin herself, standing in a thunderstorm, and looking suitably distraught.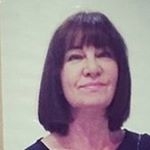 Latest posts by Michelle Topham
(see all)