Continuing on with my current obsession with Pink, I want to remind you about the amazing performance she gave live at the American Music Awards (AMA) in 2012. A performance that saw Pink do one of the most physically challenging and best performances ever seen on an awards show while, incredibly, singing live. (Well, the best performance on an awards show since this one and, yes, that was Pink too).
Pink's dance duet to her single 'Try' was with partner Colt Prattes, and saw her being balanced on his shoulders while upside down when the song started, then being thrown, swung and dragged around the stripped-down set. All the while doing the most incredible acrobatics. And, I'll remind you again, while singing live.
Of course, Pink's performance at the AMAs got a standing ovation from the hundreds of assembled stars, with most of the crowd up out of their seats from the minute they realized how she was starting off the song.
After all, Pink is probably the best live performer of her generation, as she does things on stage nobody else does or can do, so they knew this was going to be good.
What's fascinating too is she's admitted she's often incredibly nervous before she gets on stage but, every time, she comes up with something as amazing as this and looks completely fearless while she's doing it.
Honestly, if anyone thinks there are things Pink can't do, just watch this AMA performance. She's not a trained dancer, and apparently rehearsed for 10 days straight, after deciding to recreate the 'Try' video live, just to get it done. Some people apparently didn't believe it was possible. As per usual, Pink proved them wrong.
Now do you see why I'm obsessed?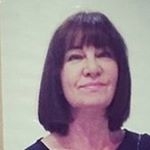 Latest posts by Michelle Topham
(see all)