Poppy Ackroyd's lead single 'The Calm Before' from new album Revolve is beautiful
Occasionally, Brighton-based pianist, violinist and composer Poppy Ackroyd comes across my radar and, every time she does, I always think "Why don't we hear more about her?". Because Ackroyd is brilliant.
This week, Poppy Ackroyd popped back up in my vision again as she has a new album coming out soon. Called Resolve, the album's lead single is a beautiful track called 'The Calm Before' that I have been listening to for days.
"'The Calm Before' is about the determination to embrace the good things in life whilst dealing with unexpected and challenging difficulties," Ackroyd has said, and it is a piece that really does evoke feelings of hopefulness. Play it and you'll see.
Revolve is Ackroyd's third album and the first full-length album with new label One Little Indian, a UK indie label with whom she released a mini-album called Sketches earlier in the year.
Listen to 'The Calm Before' in the Soundcloud widget below and, because I think you can't get too much of Poppy Ackroyd, I've also thrown in 'Time' from Sketches below that, because it's stunning.
And, of course, remember to pick up Revolve when it releases in early 2018.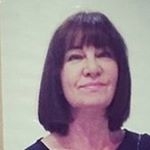 Latest posts by Michelle Topham
(see all)