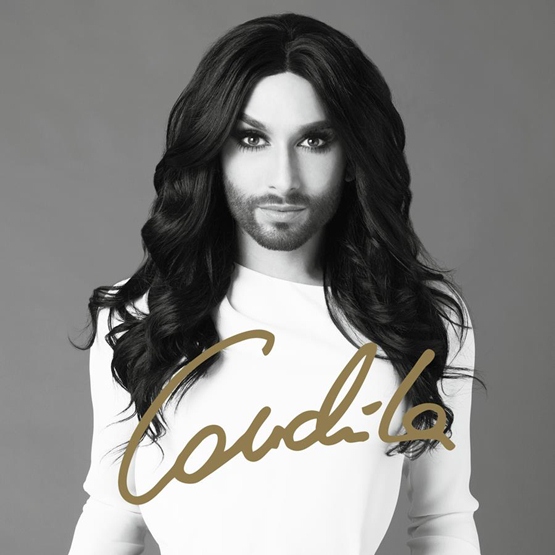 I might be in love with Conchita Wurst, but that doesn't mean I don't critique her as seriously as I do any other artist. After all, I have my readers to worry about, so I'm not going to recommend an album I don't like.
But, when I sat down to listen to Conchita Wurst's debut album Conchita, I was nervous. After all, I don't want to tell the woman who means the world to me I don't like her "baby". An album she's spent a year of her life working on.
Of course, I needn't have worried. By track five, I knew I was going to adore this album. At track nine, the gut-wrenching sobs that song elicited from me meant I listened to it four times before moving on to the next, as few songs affect me that way. And by the last track, I was back in tears again.
Yes, Conchita Wurst's debut album Conchita is not only an album I recommend, it's a rare one for me. One in which I like all of the tracks, and that just does not happen.
It is, however, an odd one too. Odd because, stylistically, it is all over the place. Classic pop, power ballads, swing, dance, even two songs with a distinct Asian flare. But what makes Conchita such a good album, despite her inability to narrow down a genre (and thank God she didn't), the album works. And it works so very well.
Because she does have the voice to sing all these genres, and be authentic. So why restrict herself if she didn't need to? After all, as Conchita Wurst hasn't followed the rules in the past, why start now?
As for the songs, there are 12 of them, all markedly different, all beautiful and all perfect for her and that astounding voice. I'll look at them all briefly here.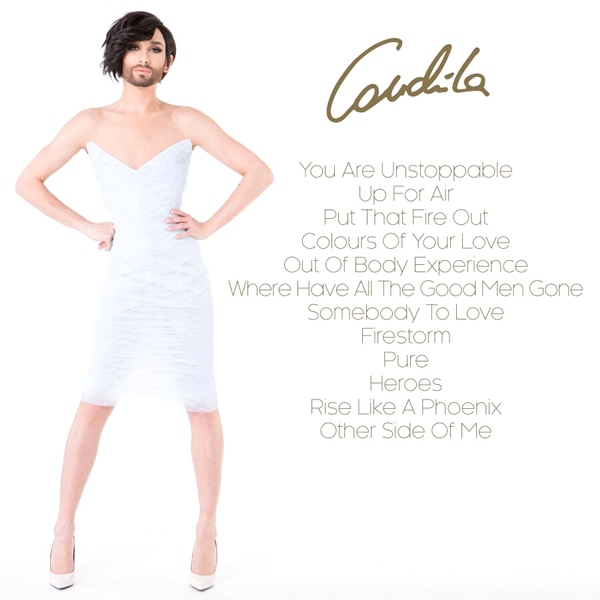 'You Are Unstoppable' is Conchita's gift to her fans. A classic pop song that tells them they have the power to be anything they want to be. For me, I've always thought it was the song Conchita sings to herself. As a reminder — all of these wonderful things happening to her now? They're never going away.
Either way, it's a powerful song and, if you haven't seen her sing it live, Conchita's performance at Germany's Unser Song für Österreich is mindblowing.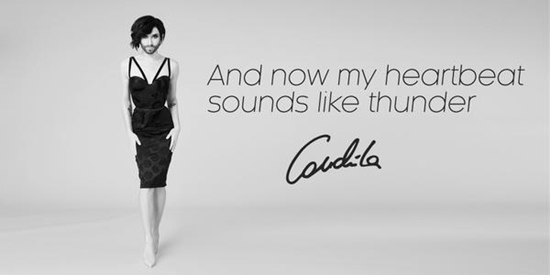 'Up For Air' I covered in depth when it was released. While others might call it an electronic pop song, to me it's a power ballad with an electronic beat, because those high notes she reaches are ballad-esque and incredible, the U2 sounding guitar is gorgeous, and the drum beat is addictive. Besides, one definition of a power ballad I read says "the musical equivalent of an orgasm". Yep. I can see that with this. Just play it LOUD to see what I mean.
'Put That Fire Out' is Conchita's show tune. Think Andrew Lloyd-Webber, and substitute Conchita Wurst for Elaine Paige. She's on a dark stage alone, standing in a spotlight. The strains of those beautiful strings begin, there's a somber drum beat and then…..Conchita's voice comes in like a march, singing the opening bars of what will be the signature song for that entire musical. That's this song. It's beautiful, her voice is perfectly suited to the grandiosity of it, and the backing chorals are stunning. (Full showcase article on 'Put That Fire Out' here).
'Colours Of Your Love' is deceiving. The first verse leads you to believe it's just a nice enough pop song, but wait for the chorus when the song explodes into an extravaganza of sound with Conchita's already amazing voice suddenly gone electronic, and then backed up by music from the coolest Indian-style sitar. It's just as luscious as anything in any Bollywood movie I've ever seen. And so much fun. (Full showcase article of 'Colours Of Your Love' here).
'Out of Body Experience' is even more Asian sounding than 'Colours Of Your Love'. It's a song that eases into itself, with none of the ultra high notes you normally associate with Conchita Wurst. This is the one I've had on repeat play when I've wanted something mellow, as it's the simplicity of the song and the simple beauty of her voice that's addictive. (Full showcase article of 'Out Of Body Experience' here – and yes, the song is quite erotic).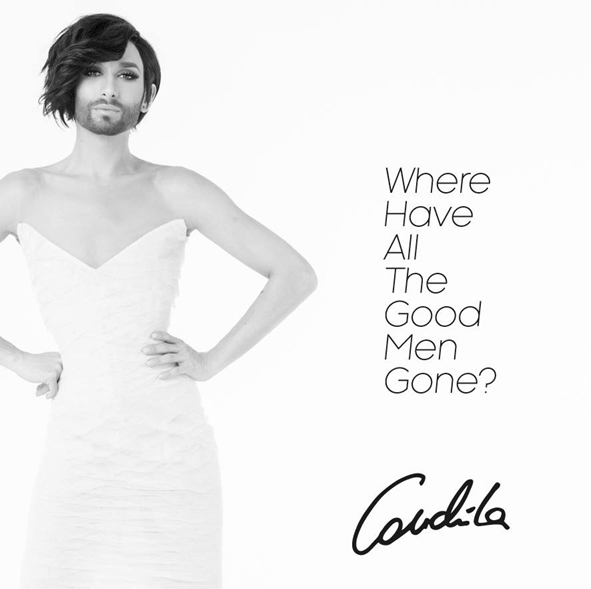 'Where Have All The Good Men Gone' – I have to admit, the first time I heard this I turned it off midway through and moved onto the next song, as swing isn't generally my thing. Luckily, I gave it a second listen once I'd reached the end of the album, as it is brilliant. Cheeky, and with a great swing beat (and remember, I don't usually like swing), this one makes me dance. And smile. Besides, swing is difficult to sing well, and Conchita nails it here, as she portrays the fun of the song, and the sophistication.
I reviewed 'Somebody To Love' when it released. And two weeks later, after hundreds more listenings, I still find it addictive and sad.
'Firestorm' is the first pure dance song Conchita Wurst has recorded, and it makes me laugh as I keep hearing her say "I'm not cool" when, in fact, this track is so 'cool'. It will also do well in clubs this summer as it has a classic European club feel to it, and is a fabulously mellow dance track. The one you want to dance to when you've had a fair few drinks, and the world just looks happy.
And then we come to 'Pure'. And it's this one, out of all of them, that hit me the most. So much so, a minute into the song and I was sobbing. And, even now, 100 times into listening to it, I cry every time. Because, this one more than any other, is her. It's also my song of the year. Out of the thousands I've already heard this year, and the thousands more I'll hear before the year ends. It's this one.
'Heroes' and 'Rise Like a Phoenix' are known by most people already. 'Heroes' was Conchita's first single from the album, and it's sublime, with a tribal vibe, electronic echoes, and her achingly beautiful voice. As for 'Rise Like a Phoenix', her debut album would not have been complete without it. After all, it's her anthem, as well as the anthem of half the gay boys in Europe, and it's the song she will always be known for more than any other. Besides…it's gorgeous.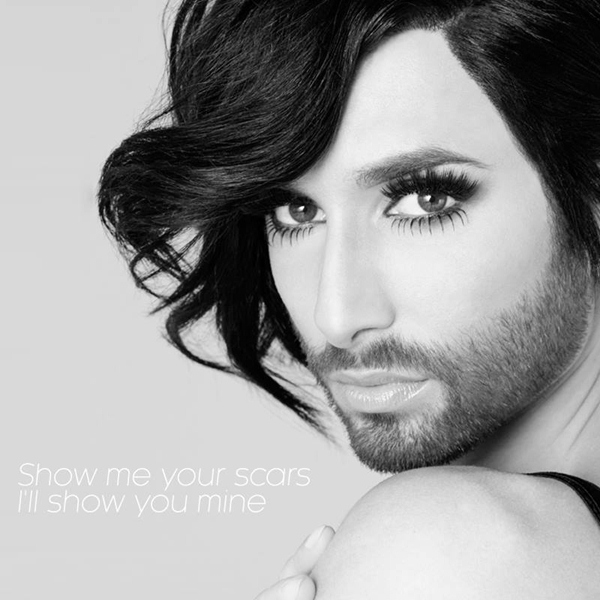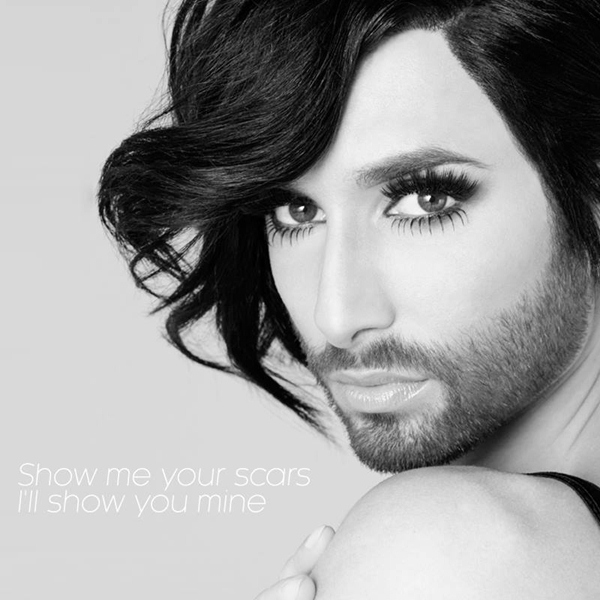 The final track, 'Other Side of Me' was written the day after Eurovision by a songwriter who saw a side of Conchita I always see. Look at the lyrics – "Tonight I'm gonna go where I wanna, Say what I wanna, Be who I want to. Tonight you're gonna see for the first time, See what I'm made of, Hear what I have to say. Don't want you to let go of me, But try to see the other side of me. I'm moving in a different way, But I still need you here."
And doesn't that make you think of the way she was at Eurovision and right after? Desperate to make a good impression, but still stubborn enough to be insistent she was going to be who she wanted to be.
And after Eurovision? Moving at the speed of light in all kinds of different directions, bleeding vulnerability while exuding the most incredible strength, and constantly changing, with an air of "I don't give a damn if you like it or not" while secretly hoping that you do.
Finally, this is what waiting a year to put out a debut album did for her. It created an album Conchita Wurst obviously loves, as you can tell from the way she sings, and from the way her eyes light up when she talks about it. And it created an album that is, quite frankly, perfect.
So, to my lovely Ms. Wurst, I think I'm even more in love with Conchita than you are, and you should be so very very proud.
To everyone else, buy this! It is beautiful, and she deserves it to be a hit.
And, if you don't mind dying of an overload of 'cute', watch Conchita Wurst unbox her album in the adorable video below (and can I just say, I love that wig. She looks like an Indian princess). And then…BUY IT.
Conchita Wurst's debut album Conchita releases today on Sony Music Entertainment Austria. It's available as a digital file on all major digital music platforms, or as a physical CD online and in stores.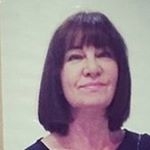 Latest posts by Michelle Topham
(see all)