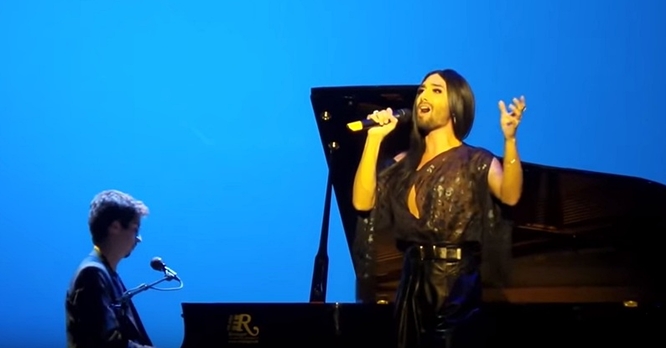 *Special Note – The video from Sanremo starts automatically. Nothing I can do about it, as that's how Rai has it set up. Arrow down to the middle of the page, and hit 'pause' before you start reading this. It's annoying otherwise. And, if you're on a mobile phone, turn it horizontally when you come to view that video — as it's a bitch on so many levels.
As 2015 draws to a close, (God, that went fast), I'm kicking off a series of 'Best Ofs' today with a look at the 'Best of Conchita Wurst Live 2015'. Surprisingly difficult for me to choose as, out of every live performance the lovely Ms. Wurst gave in the last year, there has only been one I didn't think was up to her usual standard. Astounding really, when you consider just how many she has done.
But here are the first five of 10 live performances Conchita Wurst gave in 2015 that I think were spectacular — (well, 11 really, but you'll see how I get away with that as you read further on). You can also click on the red link for each performance to find out more.
This had to be on a list of the best of Conchita Wurst live performances 2015, as not only did she give a fabulous performance of "You Are Unstoppable" live at the Austrian National Selection for Eurovision, but she did so under difficult circumstances.
Namely, having in-ear monitors that were not working, leaving her stuck on a stage at the beginning of a live TV performance going out to a few million people, and not being able to hear either herself singing or the music that should have been piping in.
But, in true Conchita fashion, she not only nailed the song beautifully, she gave a performance that, unless you knew that song well or had experience with in-ear monitors yourself, you would never have guessed she was in some difficulty. The sign of a true professional, that.
This live performance was one of my favorites of 2015 because not only did she look like an Italian movie star the whole time she was singing, all dramatic and sexy and definitely all woman with those dark flashing eyes and sultry glances, her performance of 'Rise' was perfect.
And that soft smile at the end of it? Just melts your heart.
8. 'Heroes/Put That Fire Out' — Voices For Refugees, Vienna, Austria
No best of Conchita Wurst live 2015 list would be complete for me without her performance at Vienna's Voices For Refugees concert. Because, after a year and a half of being completely in love with her, this was the first time I saw her sing live, as I flew to Vienna to meet her and to watch her perform in two concerts.
At Voices For Refugees, I was lucky to end up at the front so, as she was singing, I was less than 20 feet away. And the first time you get that close to her, let me tell you, you'll never forget it.
As here is someone who has everything it is possible to have to make it to the pinnacle of superstardom but, until you have seen Conchita sing live, you think you understand that but, no, you really don't.
Because live, she is the true definition of the word spectacular and, once you've seen her, you'll never forget it.
As for her performance at Voices For Refugees, it was lovely because so much of it before and afterwards was understated. The way she stood off to the side quietly waiting to go on stage and sing. The manner in which she quietly left the stage when she had finished performing. With perfect respect for the refugees fleeing for their lives from some of the world's most horrific places, and for the solemnity of the concert and the evening.
But when she began to sing, that's when the emotion hit as her voice rose and soared, and reached up and out and on into that entire 150,000 people crowd. This tiny little person who, with just the power of that massive voice and a stage presence second to none, held the hearts of hundreds of thousands effortlessly in her hand.
7. 'Heroes' — Festival di Sanremo, Sanremo, Italy
Conchita's performance at Italy's Festival di Sanremo was fabulous on every level. Because this was a performance she gave right after almost a month of bigots bombarding the Italian TV station Rai with threats of a 'boycott' simply because she had been asked to sing.
And she walked on stage at Sanremo as nervous as I've seen her (look at her eyes and that arrogant air she has of "I'm the Queen Bee and you'd better bow at my feet" — that's nerves), and wearing a dress with a barely-there bodice, a short more boyish wig and, for one of the first times ever, completely flat chested, and she not only gave one of the best performances of her life, she knocked the audience dead.
Because that's the thing about Conchita. While lesser people would take all that hate thrown at them and allow it to knock them off kilter, not her. She takes it and uses it to push herself further than she's ever gone before, and spectacular performances like the one at Sanremo are the result.
Because in voice, attitude and the way every single movement on that stage is beautifully flowing and fabulously flawless, this one is perfection.
And can I just say that bit close to the end where she bows her head and lets her arms fly up like eagles' wings, it's still one of the most beautiful things she's ever done.
6. 'You Are Unstoppable/Where Have All The Good Men Gone/Rise Like a Phoenix' — Wider die Gewalt, Vienna Austria
Conchita's performance at the Wider die Gewalt benefit concert was the second time I saw her sing live in as many days. This one, however, was much different than the first as, instead of her singing two enormous songs accompanied by soaring orchestral music or a loud backing track, at Wider die Gewalt she had a surprise for the audience — just her and a piano. And it was perfect.
Because here, with just a piano and a pianist, she was able to give a performance that was incredibly pure and one that, without the usual musical distraction, you could hear just how powerful her voice really is.
Besides, at the end of every song, she was just so thrilled with how they had turned out and so delighted the audience loved it, I loved her even more.
These five instances of Conchita Wurst's live concert appearances in 2015 are superb examples of just how incredible of a live performer this woman is. I'll be back tomorrow with, what I think, are the absolute five best she has achieved. And ooh, you think these last five were amazing? You haven't seen anything yet. (Part 2 of the best of Conchita Wurst live 2015 now available to read here).
Meanwhile, you're welcome to comment below.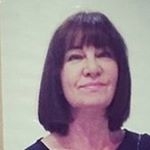 Latest posts by Michelle Topham
(see all)