Tom Neuwirth gave an astounding live performance of songs from his hit album From Vienna With Love with the Wiener Symphoniker on Saturday night
Last night's Tom Neuwirth concert with the Wiener Symphoniker was the best concert I have ever seen.
I say Tom Neuwirth, and not his alter ego Conchita, because she was nowhere near that stage last night.
Advertising
And I say the best concert I have ever seen because in my more than 25 years of covering the music industry, I have never seen a performance like that.
Songs from From Vienna With Love
Neuwirth's concert with the Wiener Symphoniker was built around the just released and already hit album the two collaborated on — From Vienna With Love — released under Neuwirth's Eurovision Song Contest winning persona Conchita.
The album was released on Friday, hit the number one spot on iTunes Austria a few minutes later, and is now the talk of Vienna for anyone that knows anything about Conchita, classical music or….actually…recognizes superb music when they see it.
An album of 10 cover songs, a new version of Conchita's 'Rise Like a Phoenix', and one original song, this thing is not only the best album I have heard all year, it is the best I have heard in several.
Enormous power ballads, a huge classical/rock track (Alanis Morissette's 'Uninvited'), several Shirley Bassey tracks and a 'The Way We Were' that is as close to Barbra's as just about anyone else has ever managed.
Advertising
It is world-class in every respect, and from an unbelievably talented petite Austrian man whose voice belongs in a superstar diva twice his age.
Tom Neuwirth's live performance with the Wiener Symphoniker at the Wiener Konzerthaus
From my third row seat last night, I watched Conchita walk onto stage as the orchestra played the first strains of the first song. And I knew immediately…this was Tom's night.
From the way he dressed — black pants, tight black top, shiny patent leather shoes — and from the severe hairstyle he chose for the occasion — hair sleekly pulled back into a long pony tail with minimal make-up  — to the emphasis on his obviously all-male body, this was Tom.
The now almost 30-year-old man who started his career at the age of 17 with Starmania, moved on to found a truly awful pop band, Jetzt Anders, which thankfully only lasted 8 months, and who finally found his groove with Conchita Wurst. His drag queen ego, and the 'woman' that won the Eurovision Song Contest for him.
Four years after Eurovision, however, and here was Tom Neuwirth singing with the prestigious Wiener Symphoniker (Vienna Symphony Orchestra). A world-class classical orchestra that does not generally do pop classical crossovers, and one that gave him a phenomenal musical accompaniment that made him fly.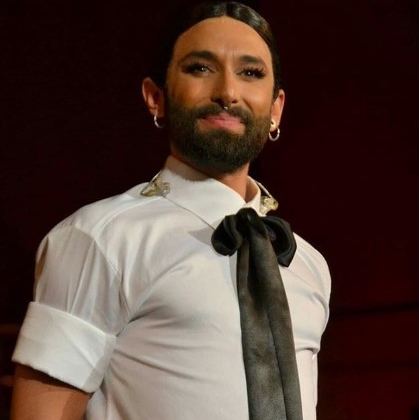 The songs and the friends
As far as I can recall, Neuwirth sang every song from From Vienna With Love. He was so astonishing from the second he began to sing, however, it was difficult to concentrate enough to check off the album songs on my mental list.
After all, have you ever seen a male singer who is barely 5ft 6in (172 centimeters), and yet has a vocal range that can go from rich lows to the highest of absolute highs, and hit every single note with a strength the majority of other singers will never achieve?
All while sucking down honey because he has a sore throat.
And one who out-divas Streisand, Celine and Bassey, while strutting around the stage carrying Europe's best ass, and making everyone in that room understand this is where Tom Neuwirth meant to end up from the first minute he took to that Starmania stage 12 years ago.
The way his voice dances and glides and moves and floats, and all leading up to the most ridiculous high notes you rarely hear from any man.
And the way he was obviously having the time of his life, while he alternated looking ecstatic at the audience's uproarious approval of his voice to incredibly humbled that all this adulation was his.
As for guest singers, Tom Neuwirth did what Tom Neuwirth always does, and it is one of the 9,000 reasons I like him so much. His loyalty.
Because he brought two of his closest friends and allies on stage — former Starmania singer Martin Zerza and singer and vocal coach Monika Ballwein — both of whom sang duets with him, as well as contributed to an utterly superb version of Prince's 'Purple Rain'.
For me, someone who loves their friends that much that they will bring them on stage to share one of the most important moments of their life is someone I could not admire more.
And, at the end of this mind-blowing concert, Tom Neuwirth had the entire audience on their feet screaming for more for at least four encore attempts. To the point that he was so overwhelmed it was obvious he was fighting back tears, and he finally rushed off stage to cover them.
Tom Neuwirth you are a superstar
So it all boils down to this.
If you missed last night's concert from Tom Neuwirth and the Wiener Symphoniker, you missed one of the best concerts Vienna has ever seen.
The Wiener Symphoniker themselves are world-class and stunning, and also seemed to enjoy their performance with Tom immensely. So much so conductor Maestro Guido Mancusi looked like he had not had so much fun in years.
Besides, just watching his admiring glances and sweet smiles at Tom between every song just made me smile and smile.
Because, frankly, whether Conchita stays, goes, dies a horribly torturous death, I can't say I really care.
The most important thing in all of this is Tom Neuwirth is a superstar, and every person in the world that cares about incredible music should know this man's name.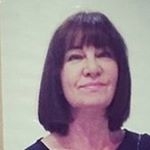 Latest posts by Michelle Topham
(see all)