Swedish singer songwriter Tove Lo never disappoints. She just doesn't.
Even when she is just sitting at her kitchen table with keyboardist Gustav Weber Vernét accompanying her, and singing a stripped back version of her latest release 'Don't Say Goodbye' — a recent collab with Alok and Ilkay Sencan — her voice is stunning, her presence is gorgeous and the song she creates is so damned beautiful.
I mean, just watch Tove Lo as she sings 'Don't Say Goodbye' in a Stockholm Kitchen Concert, as she calls it on her YouTube video of the performance.
The way she laughs delightedly as the first bars of the song are played, thoroughly enjoying what she is about to do.
The way her hand dreamily moves in time to the music — expressing the emotion of the song and how she feels as she sings.
The way everything seems so effortless for her as her voice moves from the slowness of the verses to the faster speed of the chorus.
The way she is dressed in casual pants, a t-shirt and a big, fluffy multi-colored cardigan and yet still looks as beautiful and sexy as when she is half naked on stage.
No, Tove Lo never disappoints. And she certainly doesn't disappoint here with 'Don't Say Goodbye' in her Stockholm Kitchen Concert.
Because this simple little thing is more touching, sweeter and lovelier than the original dance version of the track. Which itself rocks, by the way!
And yes, it makes me love her even more. As, even when most of the world is trapped in their countries, and often also trapped in their homes, due to governments' panic over a virus 99.7% of people will survive, Tove Lo makes this utterly insane mess just that little bit more bearable.
Watch Tove Lo's 'Don't Say Goodbye' in a Stockholm Kitchen Concert in her video below.
I've just played it 11 times through and I still have it on repeat. How about you?
And then, of course, watch the lyric video for the fabulous original dance version of the song below that.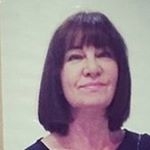 Latest posts by Michelle Topham
(see all)