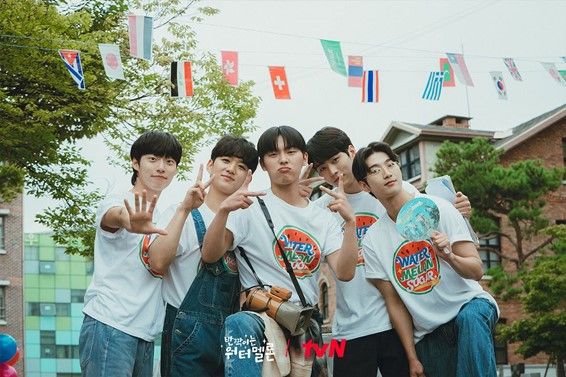 The tvN drama Twinkling Watermelon, Episode 12 saw an increase in its ratings last night, ending up with the coming-of-age, time travel drama in first place on cable TV for the day.
The latest numbers from Nielsen Korea show Twinkling Watermelon, Episode 12 earning 3.9 percent of the audience share, which is the drama's second highest rating so far, and a nice increase from its previous episode's 3.26 percent.
In Seoul, Episode 12 of the tvN drama also saw a ratings increase, hitting 4.23 percent of the audience share, which is a very nice increase from Episode 11's 3.56 percent.
Ryeoun's Twinkling Watermelon beats Rowoon's The Matchmakers
Twinkling Watermelon also beat out its only drama rival yesterday, with the second episode of Rowoon's The Matchmakers seeing a big drop in its ratings.
Meanwhile, with four more episodes of the drama yet to air, it is highly likely we have not seen Twinkling Watermelon's highest rating yet.
My guess is that will hit for its final episode, which airs on November 14th.
Twinkling Watermelon stars Ryeoun, Choi Hyun Wook, Seol In Ah and Shin Eun Soo.
The teen drama airs every Monday and Tuesday evening at 20:50 (KST), with Viki streaming the K-drama for international viewers.
On Viki, by the way, it is currently earning a crazy high 9.7 out of 10 rating so, yes, international audiences love it.
I am a Brit-American journalist, former radio DJ at 97X WOXY, and Founder/CEO of Leo Sigh. I'm also obsessed with music, anime, manga, and K-dramas. Help!