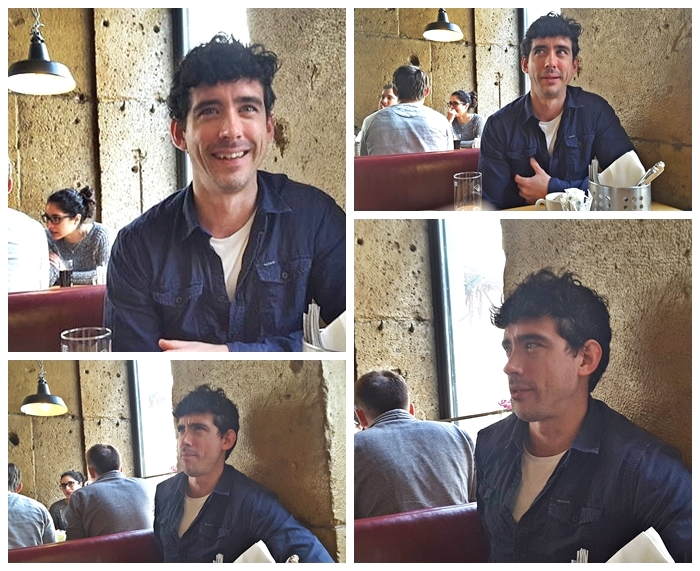 English singer songwriter Mark Peters is a Vienna based artist you need to know about
Anyone who has spent any time in Vienna's independent music scene knows how many superb musicians live and perform in Austria's capital city.
Last week, I was privileged to interview one of them. Vienna based English singer songwriter Mark Peters. A musician who made Vienna his home more than eight years ago, and one that does as much to promote and help other singer songwriters in the city as he does himself.
And a singer songwriter whose work I loved the minute I heard his YouTube videos.
Because he has a beautiful voice, his folk-jazz-blues-inspired music is smooth, rich and melodically catchy and addictive, he collaborates with some incredible Vienna musicians, and he should be getting a lot more attention than he is.
Mark and I met at Aera, a restaurant and coffee house in Vienna that also does its part in giving Vienna artists a venue for their art. And we talked not only about Mark Peters, his music background and his upcoming debut EP, but also about the difficulties of being an independent artist in Austria.
Especially when so many Austrians seem to have little or no interest in the more modern music their compatriots play.
A conversation that echoed many of the frustrations of other Viennese artists I have spoken to, but also one that held a lot of hope as, like me, Mark Peters truly believes Vienna is on the verge of an independent music explosion in the next few years.
Why did you move to Vienna?
"I wanted a change. I was a bit lost at the time. I was living in London, my band had disbanded, I'd broken up with my girlfriend, so I was just like "What do I do?". I was a guitar teacher at the time, which was a nice job. But I was just a bit bored really.
My brother had moved to Vienna a year before, and another brother moved to Budapest a year before that, so I thought "I'll go to Vienna for a year.. take a year off work…and I came here and I just loved the laid-back lifestyle.
I fell in love with the city basically. It just felt nice. I mean, I think moving abroad is kind of like a re-ignition of your life anyway, in that it's not that you reinvent yourself, you just feel more alive. There are new things to discover, new adventures, everything…so for me it was fantastic.
Then, after the first two years, I was in touch with my old boss who said "yeah, the job's open if you want to come back to London" and I just couldn't do it. I like it here too much".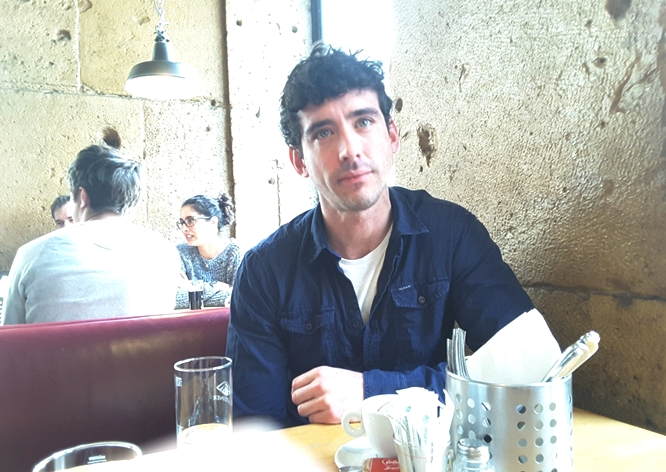 What has it been like establishing a career as a singer songwriter in Vienna?
"It's been fantastic. After a while, I got a studio and started to play with some great musicians and, for me, these were things that probably wouldn't have happened in London. To have the opportunity to rent a studio in the middle of the city,
That's one of the reasons why I love Vienna. The independent music industry here is so new and so open, and there's so much room for things to happen.
In London it's done. Everything has already been done. But in Vienna, there's so much room for new opportunity, there's always something bubbling here. Culturally things are happening.
For me, I thought it would be a smarter move to have a career in Vienna as a singer songwriter than go back to London and find myself struggling to do the same thing. Having to live on the outside of the city and trying to find your way in. Whereas here I'm already on the inside.
I've also noticed in the past two or three years there's been a community growing between singer songwriters – internationally, English, Irish, Austrian, French – and suddenly people are helping you out with your recording, there's collaboration with songwriting, and for me that feels unique actually.
I mean, I'm sure it exists in other cities, but it feels like it's tight knit and open here. It seems like a competition in other places, but here it feels like more of a community with people helping each other out. And I love that.
It's great being able to work with some of Vienna's incredible musicians too. Fabian (Natter — a member of Charlywood and MOMO), for instance, he's an amazing drummer, and working with him has been really nice.
And again, I just can't see that happening in London. I think it's more difficult to get into the right scene. Probably because it is so big. Whereas, there's just one scene all around Vienna, rather than three or four separate ones."
So now you're working on your debut EP. When will that be released?
"I'm in the last week of recording now. After this is the mixing and the mastering, so I'd say Summer 2017 is when I'm hoping to release it. Then I just have to organize an EP release concert.
I'm really excited about it. It's going to be my first official release." (*And it will release on his own label).
Do you get any support from arts organizations or the Austrian government?
"I honestly haven't really looked into it. I have heard there is funding to be had for up and coming new artists but, as usual, I've heard there's a lot of red tape to go through. Or there's always someone else who got there first and has taken all the funds before you. But I haven't really looked into it myself.
I don't think there's a lot of support culturally here, though, for the alternative music scene. It's like people don't realize that is a talent in this country. So there's not much support, so these bands are just being left. Being overlooked.
Then again, one of my friends toured the UK recently and I said to him "What was it like being back home?", and he said "It was desperate" especially going through some of the northern towns in the working class areas.
I think if you're from one of these areas and your family doesn't have much money and you don't have a lot of opportunities in your life and you're a musician, then it makes you work that bit harder. That's probably why there is so much good music coming out of the UK and the States as well.
But in Austria, life probably is a bit easier because of the amazing social services here, so maybe that's why musicians don't go for funding so much? They're not hungry enough."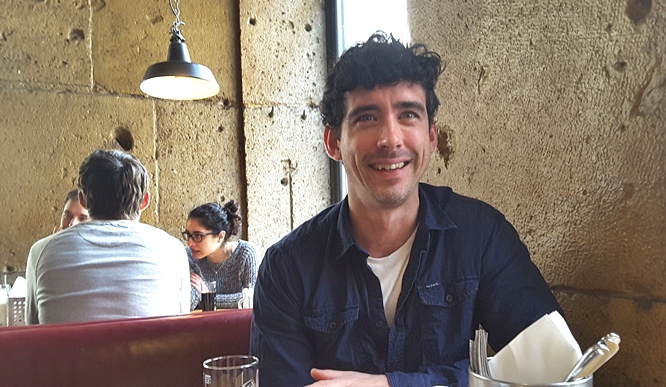 Founding the Vienna Songwriting Circle
"A couple of years ago, though, myself and a couple of friends started a singer songwriter workshop, and it's great. (Vienna Songwriting Circle — check it out if you're a Vienna based singer songwriter. Their next one is on April 26th at 14:45 at Jetzt Bar on Parhamerplatz 1170 Wien).
It started off with just the three of us. Three songwriters sitting together in a room and talking about songs. Writing songs. Eventually other people started to attend the workshop and we kind of structured it better.
We meet once a month now, and have intuitive singing, and a guest speaker — either somebody from outside or one of us – about song writing or recording etc. Then in the last three hours, we are given a brief and we write a song.
We collaborate with two or three other people, spend half an hour writing a song, then come back, perform it, and record it. We have a light music evening as well.
But the great thing was, it just kind of started to snowball.
First there were three, then there were five and now it's like 20 people at a time. And it feels almost like a help group. You know, singer songwriters coming along going "God, I did this gig the other day and they paid me 50 euros, and it was terrible. What can I do about this?" And everyone giving their advice and their help.
On top of that, over the last couple of years we've taken all the co-written songs in the sessions and recorded them at the studio. So we're going to have an album to release as well. It's a really nice scene.
One thing I was surprised about when we started the Vienna Songwriting Circle, though, was I started off with my two mates who I knew were good, and were already established songwriters. Then all these new faces started to show up and I thought it was going to be people starting on their songwriting journey and they were going to be writing rough, basic songs. And it turned out, they were brilliant.
I couldn't believe what I was hearing. It was inspiring, you know. And I'd say, "Where have you been?" – and they'd answer, "Well, I've been in Vienna for years. I'm Austrian, and I've been playing here for years."
What's it like playing live gigs in Vienna?
"It can be difficult.
I did a gig recently at a coffee house that was tough. I think the idea is they want to turn it into a listening venue, so I was doing half covers, half originals and it was a nice atmosphere. But it wasn't a good listening venue.
It was people coming in, having a bite to eat, not really listening because they were there to hang out with their friends – so it wasn't really the kind of concert I would prefer to play. The kind where people are really listening to what you're playing."
But isn't a lot of Vienna like that, with most Viennese not quite 'getting' the 'listening to live music in a coffee house' like people do in the US for instance?
"Yeah, understanding coffee house music is definitely not the case in Vienna. So, as a singer songwriter, it can be difficult to play in them.
And I do find it difficult to find venues here sometimes. I mean, there are a lot of venues, but there aren't a lot where an audience will go to hear live music.
Like in the UK you might think "I'd love to see a new singer songwriter, so where should I go? I'll go to Camden". And you turn up there and walk into a pub, and there'll be an unsigned band playing and they'll blow you away.
In Vienna, though, it seems like the only gigs people attend are for people already known or for an EP release party, a corporate event, that kind of thing.
But generally, to find a place where people actually go to hear new live music or new singer songwriters performing, there's not many places like that in Vienna."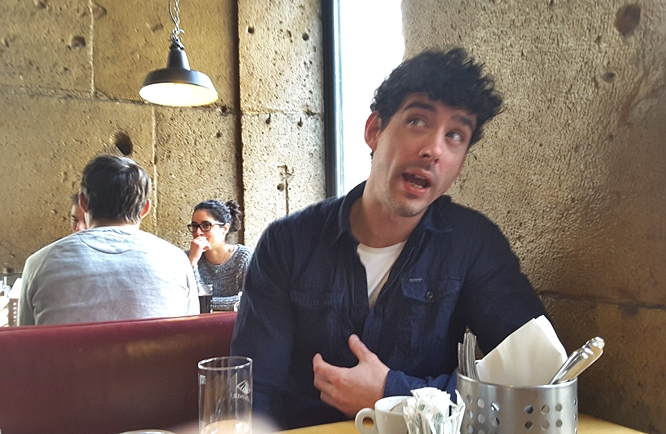 So where do people go?
"People will go to B-72 or to Chelsea. But it's also mainly touring bands that play there. Or special shows. But there are no bars or venues where you have a regular audience going to discover new music. I used to think it's because people in Vienna are just not interested, or someone is not promoting it right.
But I do think there is interest because, whenever I play, there's always a good response and it's people I haven't seen before, so that's great. People even come up to me and say "Where are you playing again? Where can I see you again?"
For me, though, the lack of venues and the lack of attention from Austrians towards their own musicians is a shame. There is so much homegrown talent, and foreign talent, in Vienna yet so few Austrians seem to notice."
Where are you performing next, and how often do you usually perform live?
"I have a gig about twice a month or so.
My next one is at Cafe AU on Brunnengasse. That's on the 26th May from 21:00 to 22:00.
I have a few singer songwriter evenings before and after that as well.
Then I have a festival in Zagreb, which is a cool thing. Singer songwriters set up in a circle on a stage, and you each play one song and it goes round and round the circle. It's really cool. And the audience kind of follow you around the circle.
For me, though, the big one is going to be my EP release concert, which will probably be at the beginning of July."
Thoughts from the writer
I have to say I definitely agree with Mark, and with so many of the other Vienna based artists I have spoken to since I moved to Vienna nine months ago. There is so much superb independent music in Vienna, with not enough people going to hear these artists live.
That's why I always tell everyone I meet, if you are in Vienna and looking for something more unusual to do in an evening, check out some of the places Mark mentioned or some of these recommended by other Vienna locals. I guarantee you will be blown away by the caliber of Vienna artists that you hear.
As for Mark Peters, check out his next gig at Cafe AU and, of course, his EP launch party in the early summer, which I will let you know about here on Leo Sigh as soon as he decides on a venue. Look out for it, as he really is wonderful.
And, of course, listen to some of his music. The two below are my current favorites.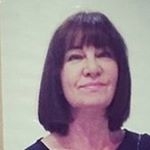 Latest posts by Michelle Topham
(see all)