After almost two years of watching Austrian singer Virginia Ernst's videos, listening to her music and interviewing her several times in person, I finally got to see her perform live last weekend at the 25 Hours Hotel's 'Das große Parkfest' in Vienna. And it was well worth the wait.
The event was at Weghuberpark in Vienna and featured various artists, with Virginia Ernst as the headlining act.
For me, it was my first summer concert in Vienna, and one I enjoyed immensely as I hung out with a group of nice people, ate some decent pizza, drank good beer, and all to a soundtrack provided by live Austrian artists.
The all-day concert was even more interesting from a recently-arrived-in-Vienna perspective as I loved the vibe of a completely modern concert in a pretty city park held against the backdrop of the architecturally beautiful Baroque 18th century Palais Trautson. Only in Vienna do you get something that special.
And, of course, Virginia Ernst was everything I expected her to be with a great stage presence, playing cool music you can really relate to, and an excellent live performer.
From talking briefly to a few fans while standing in the crowd, it was obvious they all thought so too. With the rush to the front of the stage happening the minute she came out for her soundcheck, and fans much more excited throughout her set than typical Austrian concertgoers seem to be (to me, they're typically very low key compared to other countries I have lived in).
During her 50 minute set, Virginia Ernst sang all of her hits including 'Soldier', which has even more of a poignancy when you hear it live, 'Rockin', my personal favorite 'Kiss', and her latest single 'No I Ain't'.
And she performed them all beautifully and with such charm, which makes it even harder to believe that the last time I met her she told me she was always "very nervous" before she went on stage to perform.
Watching her talking animatedly to fans before the show, and engaging the crowd in conversation throughout it, you would never have guessed.
Virginia Ernst will be in concert again on Saturday, September 17th at ParkSound in Böheimkirchen in Lower Austria, before heading off to Germany for a short concert tour there as well. If you're in that area, you really should grab the chance to see her.
Meanwhile watch the video for her newest single 'No I Ain't' below.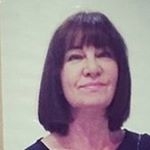 Latest posts by Michelle Topham
(see all)