I met with the fabulous Austrian singer Virginia Ernst in Vienna again last week. This time to talk about her recent mini tour in Germany to promote her new single 'No I Ain't'. A first tour in Germany for Virginia and one that, while she, her band and her manager mother drove long hours from city to city with not much time in between concerts, she still says she really enjoyed.
"We had the first concert in Hamburg at the 25 Hours Hotel, which was cool, and the concert was fun. The next concert was in Frankfurt. It was smaller, more of a showcase in front of a group of business people, but still a nice thing to do. Then the last concert was in Berlin.
After the Frankfurt concert, the next day we drove six hours to Berlin. And the great thing was we were driving two Mini Coopers, which the 25 Hours Hotel lent us to promote the tour. It was so much fun to drive them – because the boys (her band) had one and we had one. (See fun photo of Virginia driving her Mini Cooper here).
When we got to Berlin, it was like, yeah, let's see how this works, because you never know how it's going to go in a new place. And then the concert was really cool.
Because, at the soundcheck there were already around 120 people there just watching me sing. Then the show itself was great, as everyone really got into the music and was clapping and singing along with me, and the vibe was so nice. Afterwards, the manager of the venue even came up to me and told me that has never happened before."
Virginia went on to explain what it was like for her on her Germany tour. After all, this is a new country for her and, even though she is famous in Austria, in Germany she is just starting to become known. That means smaller concerts, and less people knowing who she is when she performs.
"It's hard when you're starting out in a new country. I mean I've played in front of 25,000 people in Austria. Then you come to Germany, and you're on stage in front of like 40 people, and it's so unusual because, for the last two years, I've been famous in Austria and people recognize me.
Then you go to another country and play your songs, and you say "Come on, let's sing together" and nobody knows your songs. And I had to introduce myself and tell them "I used to be a hockey player, these are my songs",…..tell them everything about me all over again. But…everybody starts somewhere."
And this is one of the things I love about Virginia Ernst when I see her. Because, while she is honest about what it is like being a singer songwriter from a small country like Austria, and how hard she has to work to get more people to pay attention to her outside that country, she is also always upbeat, positive and with an attitude that, it doesn't matter how hard she has to work to get the attention she deserves, she's willing to do it. Oh, and yep, she'll have a lot of fun while she's at it.
In recent months, though, her hard work is starting to pay off outside Austria. After all, not only has she played her first solo concerts in Germany, and successfully too, she is also starting to see other attention being focused on her.
"Yesterday I heard my new song 'No I Ain't' is on a new spot on Sky in Germany, so with every step we take we go a little further."
As for Virginia Ernst's next goal, now that she has been able to make inroads into Germany?
"My next goal is Europe. I want to come out of Austria and make a name for myself all over Europe.  Just like I did once with hockey (she was a very successful professional hockey player for several years), I know I can do it again. So Europe is next. Then I'll go to China, or Japan to venture out even more".
And when you hear Virginia Ernst speak like this, it is obvious she knows her ambition to be taken seriously outside Austria is going to take a lot of work. Work that she has done before, and work she will happily do again as she knows it gets her to where she wants to go.
After all, she is one of the few Austrian singers that did not get where she is because she performed in a casting show. Instead, Virginia Ernst is completely self-made.
So where did she get her start?
Interestingly, I didn't know this, and I've met Virginia Ernst many times before, but it's a cute story that proves how determined she is when she puts her mind to something. A determination that is likely to serve her well while she attempts to conquer Europe.
"I started out in a singer-songwriter workshop in the UK in 2011. My mom told me I should sign up for it, so I did. Everyone in the workshop worked all day on our songs and then, at the end of the day, they told us "Now you have to perform it" and I said "No, I'm not gonna to do that", because I had never sung in front of anyone before. But they said, "Yes, you worked for six hours on the song, so you have to".
And I said again, "No, I'm not gonna do that", and then my Mom told me "Come on, you can do it". And I was so nervous. I mean it wasn't a little group. There were like 300 people.
So I was singing really quietly, almost to myself, and, at the end of it, I came off stage and said "My God, I'm so happy that it's over now" and then I won, and I had to go back up there and sing it all over again."
Apparently, though, not only did that experience not traumatize Virginia Ernst like it might have done a lesser person, instead it started off her singing career and in a big and fast way.
"I was still a professional hockey player then. But I came back from the competition in England, played one more hockey game and then I quit. I started to be a singer songwriter instead. Because I knew that's what I wanted to do".
"So, honestly, I started really really small. Really from nowhere."
And, yes, while that may be true, with how talented Virginia Ernst is and where she wants to go, I think there is a very good chance she will end up really really big.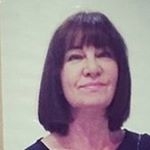 Latest posts by Michelle Topham
(see all)