Watch Adele Give Superb Brit Awards Performance of 'When We Were Young' But Yikes That Staging
Adele gives amazing performance of 'When We Were Young' at Brit Awards
Even though Adele was incredibly depressed about her problematic live performance at the Grammys last week (she had a microphone catastrophe), it did not stop her giving an incredible performance of 'When We Were Young' at the Brit Awards last night.
In fact, the only thing that could have been better here was the staging as there was so much going on — glitter, photograph panels, sparkly lights and Adele in an equally sparkly, glittery dress.
Then again, it was an amazing sparkly, glittery night for Adele who picked up Brit Awards for best British female artist, best single for her hit single 'Hello', and best album for 25′. She was also given the Global Success Award.
And, as usual, Adele paid tribute to her millions of loyal fans saying 'You're incredible. You blow me away every time'.
Watch Adele live at the Brit Awards last night with a superb performance of 'When We Were Young' in the video below. Yes, she just gets better and better. And isn't it hard to believe she is apparently always incredibly nervous before she sings live? Rock solid, that girl. Completely rock solid.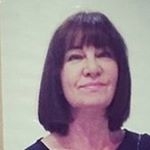 Latest posts by Michelle Topham
(see all)