I'm always saying I'm not a fan of country music. Then I listen to bands like Old Dominion and I think, "Well, maybe I am", because I love what they do — that sweet contemporary sort of pop rock country sound.
Which is why I was thrilled to see Old Dominion on Jimmy Kimmel Live! this week, performing two singles from their recently released debut album — 'Break Up With Him' and 'Snapback'.
And what I like about Old Dominion, above and beyond their rich, warm and cool sound, and their fabulous guitars, is that their songs always seem to have such a great hook to them. A hook that runs around in your head long after the song is over.
And, if you are wondering what 'Snapback' means, as I must admit I was, here is Old Dominion themselves explaining what the term is and why they used it in this, I have to say, very cool new song.
As for the new album, it's called Meat and Candy, and hit number 16 on the Billboard 200 and number 5 on the Top Country Albums charts. And, yep, it's good.
Now watch Old Dominion perform 'Snapback' and 'Break Up With Him' on Jimmy Kimmel below. Lovely performances, aren't they?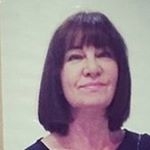 Latest posts by Michelle Topham
(see all)