Weezer's 'Happy Hour' is a slow upbeat jazzy number but ultimately bland
Weezer's latest song release today — 'Happy Hour' — is a slow upbeat jazzy track that is reminiscent of songs you hear while laying on a beach drinking a Mai Tai.
It's also quite a bit different than the music we normally get from the indie alternative rock band, who apparently wanted a completely different style for this new album than the music they have released in the past.
Frankly, though, this one seems a bit odd to me as the song is so unlike the 'coolness' of a typical Weezer track, and more than just a little bland and forgettable.
A song you would throw on in the background if you don't want to have to think. Or a track that could quite happily play in an elevator in a hotel somewhere in Bermuda.
'Happy Hour' is from the band's upcoming eleventh studio album Pacific Daydream, which will release on October 27th.Other songs released from the album so far include 'Weekend Woman', 'Beach Boys', 'Feels Like Summer' and 'Mexican Fender', all of which are much better songs thankfully.
Listen to 'Happy Hour' below. You may have a better reaction to it than I do.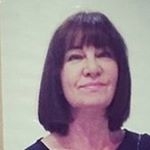 Latest posts by Michelle Topham
(see all)