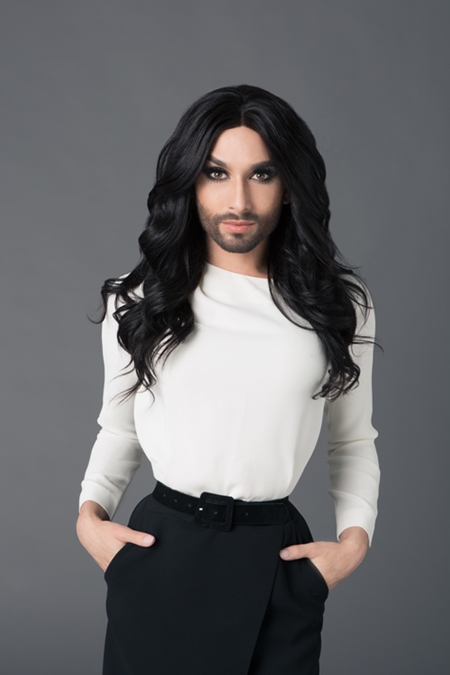 I was listening to a BBC interview with Lana Del Rey yesterday, when something struck me. Something that made me compare Lana Del Rey to Conchita Wurst, and made me think about another of the many reasons I am so fascinated with the lovely Ms. Wurst. It has to do with something she does, and Lana Del Rey doesn't. Something that makes Conchita even more larger than life, while not doing it makes Del Rey somewhat less powerful than she could be.
To explain it? I'll start with Lana.
Lana Del Rey herself doesn't really match her music
If you know anything about Lana Del Rey's music, it's known for being sultry, sensual and atmospheric and with a definite European vibe to it. Sort of a throw back to 1960s torch songs, where the woman singing them is mysterious and hard to figure out. That's Del Rey in her music. And it's why millions love her so much.
What hit me when I listened to her short interview with the BBC, however, was that in real life away from the music and its image, Lana Del Rey doesn't seem sultry, sensual or mysterious at all. Instead, she sounds young, very American and ultra modern – and more Lizzy Grant, her real name, than Lana Del Rey.
Nothing wrong with any of those things, of course, but they are so far away from how she appears when she sings, it's a little bit jarring.
And if it was me, and I was marketing Lana Del Rey, I would have had her create a public personality that more closely matched her music, especially as it has such an old-fashioned feel to it. A public personality just like Hollywood stars used to have in the 40s, 50s, and 60s — something akin to what burlesque dancer and model Dita Von Teese has created for herself. All of it done to work together and to give even more strength to the illusion.
After all, every musician is creating an illusion on stage to some extent, so why not make it as powerful and as complete as possible, even when you're off stage?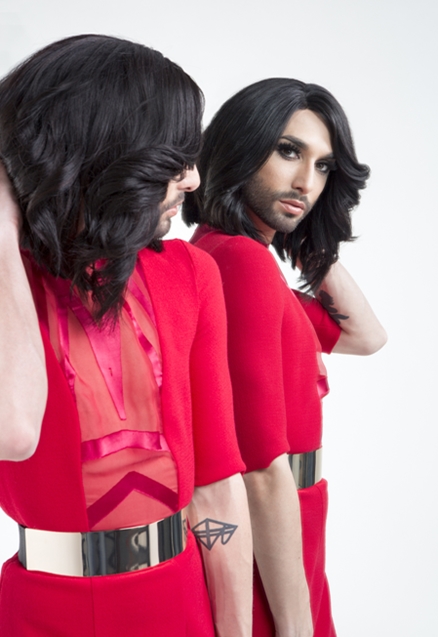 Conchita Wurst and the perfection of her image
When you look at Conchita Wurst, however, the opposite is true. Her image is consistent in everything she does and everything she is. From the way she performs on stage and on album, to how she dresses. From her personality in interviews, to even the way she poses in front of the cameras, and how she is with fans.
Because when you hear her sing and then listen to her speak, she is exactly the way you expect her to be, no matter what situation she finds herself in.
As what Conchita Wurst has done is to create a public persona from the ground on up where everything fits together perfectly and, because of this, she has a 'star quality' few of her peers have. The type of star quality we used to see in people like Marilyn Monroe and Sophia Loren. A quality that is all but ignored by many young celebrities nowadays.
The plan and its execution
Before I'd ever read Conchita Wurst's autobiography 'Being Conchita', or read interviews with her manager René Berto, I already knew there was 'a plan'. From the days I spent right after Eurovision 2014 watching every Conchita Wurst video I could find, I could see it, and watch as it progressed from the older videos to the newer ones.
A plan to make Conchita Wurst a world star. Someone as famous as Cher, Shirley Bassey or Celine Dion — Conchita's own idols — and, of course, as big of a personality as any of these amazing women.
The plan was put together by René Berto, before he became her manager. Right after she ended up in sixth place on the talent show Die große Chance. A plan that is talked about in Conchita's autobiography (pages 53-56).
It was René who asked her what her goal was ("I want to be a world star"), and it was René who went away and drew up a plan to help get her there.
But what's interesting to me in all of this is not just René's plan itself, which, from the bits that seem obvious to me, is really quite brilliant, it's even more that Conchita Wurst (aka Tom Neuwirth) got this plan stuck in her head, and then used it to create the Conchita we now see today.
Because it's all very well to have a manager that comes up with a superb idea, and a team that helps you put it into practice. But if the artist themselves is unable to follow through, that idea will never have life breathed into it, and it will ultimately fail.
With Conchita, however, she is so intuitively intelligent, she assimilated that plan, she figured out who she wanted to be, and she's rarely wavered from the plan or from that personality since. Except, of course, to refine and make her the best possible version of herself every chance she gets.
And it's this, above many other things, I believe, that will ensure Conchita Wurst becomes the world star she always wanted to be. Because if you look at Cher, Shirley Bassey and Celine Dion and, of course, Victoria Beckham and Lady Gaga, they all have images they have created as well.
An image and a way of behaving that is always their 'default setting', and everything about that image fits perfectly together. So when you see Cher on a talk show, Celine Dion sing, Lady Gaga giving an interview, or Victoria Beckham on a red carpet, you know how they will act. Unsurprisingly, they always do.
To me, however, Conchita Wurst is even better at this than they — the masters — are. Because don't forget, while they are some of the strongest, most powerful, and most intelligent women when it comes to embodying the persona they have created, Conchita Wurst manages to be just the same way while, at the same time, being 'all boy' and yet, in the words of the fabulous Courtney Act, completely transcending what it usually means to be a 'drag artist'.
And, honestly, I have the hugest admiration for that, and for her.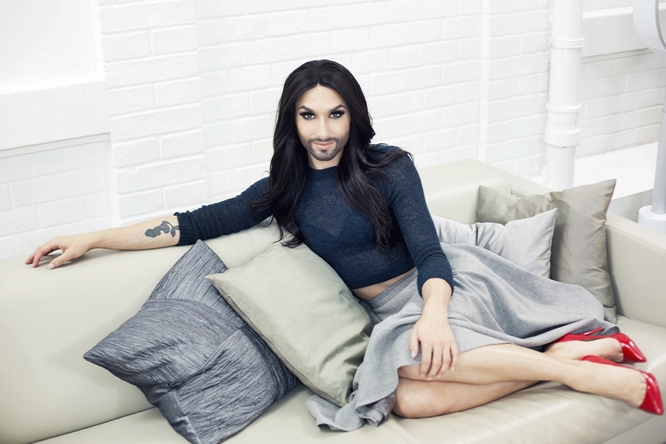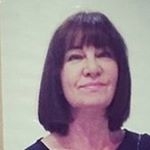 Latest posts by Michelle Topham
(see all)