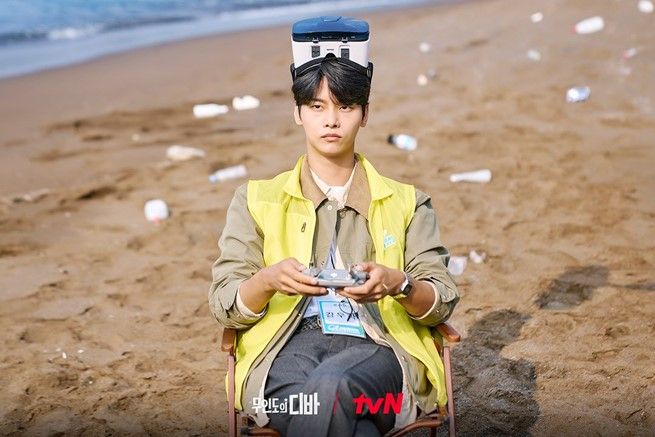 Castaway Diva, Episode 2 sees an almost 2.0 percent ratings increase overnight
As I predicted yesterday, the new tvN romantic comedy drama Castaway Diva saw a big increase in ratings when it aired in South Korea on Sunday night.
According to Nielsen Korea, Castaway Diva, Episode 2 grabbed 5.15 percent of the audience share nationwide, which is an increase of almost 2.0 percent over the K-drama's first episode (3.17 percent) on Saturday night.
In Seoul, Castaway Diva, Episode 2 saw a similar result with the drama earning a 5.40 percent rating, again almost a 2.0 percent increase from Episode 1's rating of 3.45 percent.
Those numbers made the K-drama the second most-watched show on cable TV on Sunday, and shows what would likely happen if every episode was not being aired opposite the already popular My Dearest and The Escape of the Seven as it currently is on Saturdays.
Fingers crossed then that Castaway Diva's increased ratings will continue.
Especially as other excellent tvN dramas like Delightfully Deceitful, Stealer: The Treasure Keeper and The Heavenly Idol that also aired in 2023 did not earn the higher ratings they deserved primarily due to other drama's being aired in or around the same time slot.
Then again, Castaway Diva does star Park Eun Bin, a Korean actress who has garnered an enormous fan base since her spectacular performance as the protagonist in Extraordinary Attorney Woo.
That fact, along with a superb main and supporting cast, a very well-written story and, of course, the drama only having 12 so-far-tightly-written episodes, should see Castaway Diva continue to do well .
Viewing information for Castaway Diva
Castaway Diva was written by Park Hye Ryun (While You Were Sleeping).
The new K-drama stars Park Eun Bin (Extraordinary Attorney Woo), Kim Hyo Jin (Lost), Chae Jong Hyeop (Unlock My Boss), Cha Hak Yeon (Joseon Attorney), and Kim Joo Hun (Dr. Romantic).
The next episode of Castaway Diva will air next Saturday night (November 4th, 2023) at 21:20 (KST) on tvN, with international audiences able to watch the episode soon after via Netflix.
Let's see what happens to its ratings next, but my guess is the drama's momentum will continue as, so far at least, it is captivating.
I am a Brit-American journalist, former radio DJ at 97X WOXY, and Founder/CEO of Leo Sigh. I'm also obsessed with music, anime, manga, and K-dramas. Help!