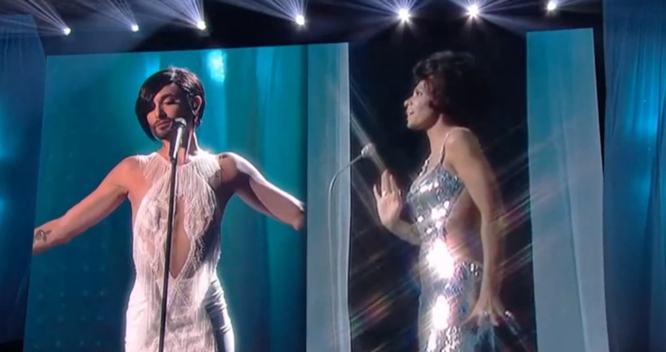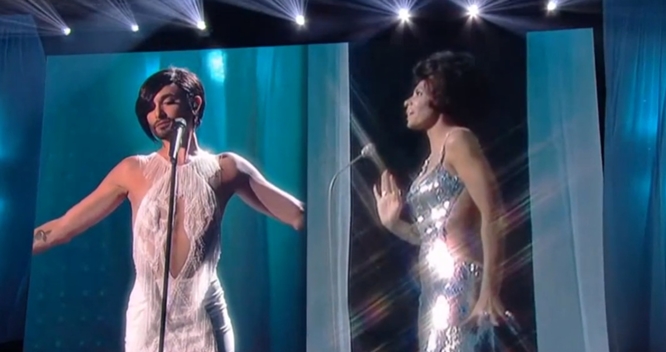 I'm not a fan of virtual duets. They are difficult to do properly, the person singing along with the video of the (usually) massive superstar is rarely anywhere near their caliber and, in most cases, they are a gimmick. So, when I heard Conchita Wurst was singing a virtual duet with Shirley Bassey on ORF's 'Great Moments', I wasn't thrilled.
And it's not that I think Conchita Wurst isn't anywhere near Bassey's caliber (she's close, but not quite there yet). But, come on. Bassey has been Tom Neuwirth's idol since that boy was eight years old, so the last thing I want to see is her (him) on a stage in an imitation Bassey dress doing a cheesy version of  'Diamonds Are Forever' alongside an almost 45-year-old recorded version of a powerhouse Bassey, and making a fool of herself.
So, when I saw the video of Conchita Wurst singing a virtual duet with Shirley Bassey had gone up online this morning, frankly, I waited a few hours to watch it. As, if there was even the smallest chance it was awful, thanks, but I'd rather not.
Secretly, though, I also knew, unless the gods conspired to be particularly mean, there was no way Conchita was going to fail me. Because, let's face it, she never does. And that's why, last night on ORF's 'Great Moments', Conchita Wurst sang a world-class duet with Shirley Bassey that had as much impact as if she was standing on the same stage with her.
Because everything about her performance was sheer class and absolutely flawless. From her dress, a long white gown similar in style to Bassey's but carefully chosen to compliment the sparkly silver extravaganza rather than to compete with it, to her wig — short and similar to a classic Bassey style from the 1970s. And, of course, her performance.
A performance I knew was going to be a good one from the minute she appeared slowly walking from between panels of sheer and billowing curtains, and sang "Diamonds are forever".
Because it's in the fact that, in the last year and a half, this girl has got 'superstar' jammed so far into her head, she lives and breaths it, and that came out in everything she did last night.
Just watch her opening lyric, which had to be strong and powerful if she was going to make this duet believable and match Bassey's incredible stage presence and power.
Shirley Bassey's performance of 'Where Do I Begin (Love Story)' is astounding
And, remember that famous line about Ginger Rogers doing everything Fred Astaire did, except backwards and in high heels? Well that's Conchita Wurst here.
As, while Bassey is completely stationary in her performance, and able to give off much of the power she does because of that, Conchita is maneouvering through sliding panels, walking in heels and an impossibly long dress, portraying as seductive and as sexy of an air as she possibly can, with all the hip swaying and high flung arms that go with that and, yes, singing. And yet, the power that flows from her as she does it is just as strong as that of Bassey.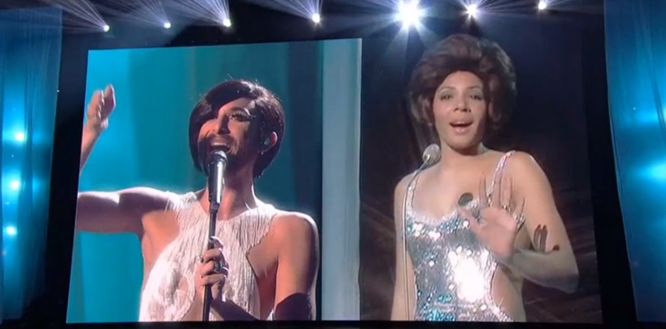 The rest of her performance is equally seductive, and so unbelievably believable, you cannot look away. Because look at it this way. There is an extremely fine line between an artist singing a virtual duet with Shirley Bassey in such a way you want to watch her as much as you want to watch Bassey (and nobody overshadows Bassey. They just don't), and a gay boy so in love with Bassey, and desperately wanting to be her, that what he finally pulls off when he achieves a partial dream like this is to be a parody of her.
Conchita Wurst? She didn't go within a mile of that parody. Enamoured of Bassey, of course, and she always will be. But absolutely her own artist. An artist who, give her a year or two, is going to be not only in the same league as Bassey but, if she continues on this skyrocketing path of hers, might eventually surpass her.
What was most interesting to me about Conchita Wurst in a duet with Shirley Bassey, though, was I remember watching Bassey's original performance in this video when it aired.
It was England, Christmas Day, 1971, on the Morecambe and Wise special, I was a child, and my family and I congregated around the TV screen, Christmas puddings in hand, waiting for Bassey to appear. We had been waiting for this all week. Because Bassey was the biggest superstar the United Kingdom had ever seen.
Today, I watch Conchita and Shirley on screen together and I have the same feeling. About Bassey, sure. But also about Conchita.
And, I've always had a feeling most Austrians, while being proud Conchita has put Austria on the map when it comes to music, still don't really understand just how talented she is. Or how spectacular she was in last night's performance. Then again, I don't think Conchita herself quite gets that either.
It's the enigma that is Conchita, and the thing that makes her the ultimate diva. Because as much as she has an ego the size of Vienna when it comes to her belief in her singing (yeah, sorry, love, you do), she also feels no matter how good she is or how perfect her performance, it's never quite good enough. At least not for her. (Look at that slightly tight-smiled look she has at the end of last night's performance — that's her not as happy with her performance as she should have been, because of one teeny tiny mistake).
And that. Right there. That's a true diva. It's Barbra Streisand, Celine Dion, it sure as hell is Bassey, and yes, it is Conchita Wurst.
Now watch her virtual duet with Shirley Bassey on ORF's 'Great Moments' last night in the video below. Then watch Bassey's original 1971 performance below that. I don't know about you, but I think I liked Conchita being there just that tiny bit more.
And finally, do me a favor, and re-listen to Conchita's duet on headphones and not watching the video. It's then you can hear just how good she is.
As for me, I already have an MP3 version of it, it's on my cell phone, and it's going to be playing in my ear everywhere I go for, oh, the foreseeable future. Problem is, I'm not sure I can go outside while listening to it as, 20 times through, and I still haven't made it to the end without crying.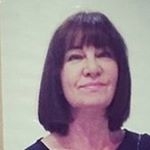 Latest posts by Michelle Topham
(see all)