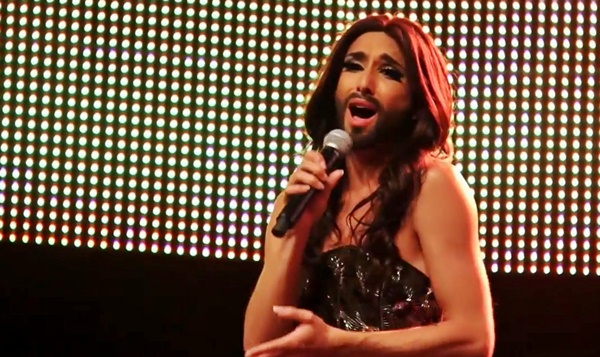 Eurovision Song Contest winner, and all-around fabulous Goddess, Conchita Wurst was in Zurich, Switzerland yesterday performing at the gay and lesbian gay pride festival, Zurich Pride. The singer sang her winning Eurovision song 'Rise Like a Phoenix', as well as favorites 'Believe' and 'I Am What I Am'.
Thanks to the beauty of the internet, one of Conchita's performances at Zurich Pride, 'Believe', was up on YouTube this morning for we loyal fans to enjoy, which I did along with my early morning coffee.
And can I just say, before I even get started, Conchita Wurst's performance of 'Believe', a song she herself calls 'the most annoying pop song ever', is far better than the travesty Cher put out. Really. It just is.
That's because La Wurst has put a spin on the song, slowed it down, and added emotional depth and heart-break so, yes, it's truly lovely.
Interestingly too, every new time she sings it, I notice her vocals just get better and better as her latest performance at Zurich Pride proves.
While at Zurich Pride, Conchita Wurst was also honored with a new award – The Conchita Wurst Unstoppable Award – and, if you don't mind the German-only language, you can even see the hand-casting of this unique award in the video below.
The award, by the way, was then shared by the lovely Ms. Wurst in a photo on her Twitter account.
Finally, if you're not sure if the message of tolerance, acceptance and love that Ms. Wurst is spreading is truly genuine and important to her, think about this. With all her fame at the moment and half of Europe wanting her to perform for them, when Zurich Pride asked her to perform, she not only agreed to do it she agreed to do it for free.
Now there's someone who understands what's really important in life!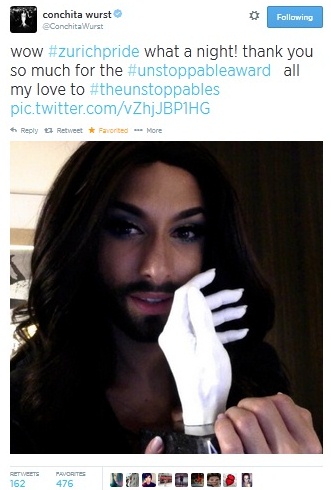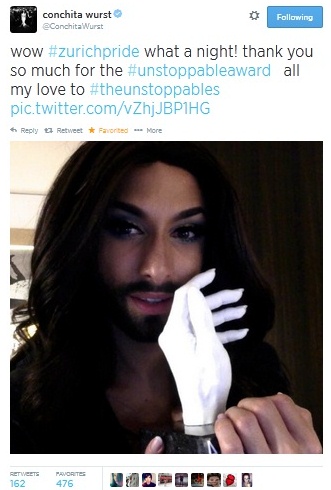 As for Conchita Wurst and upcoming gay pride performances in your area of Europe, her next one will be at CSD Berlin on June 20th. And, yes, she'll be getting another award there as well. You really shouldn't miss it.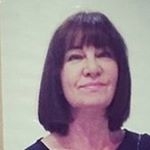 Latest posts by Michelle Topham
(see all)