Doctor Cha views on Netflix are rapidly growing as K-drama becomes hugely popular
While I do watch some English-language series and movies on Netflix, most of my viewing is non-English language TV shows and, in particular, Korean dramas.
That means then, when Netflix releases the latest ratings for their streaming service, as they did earlier this week for the period May 1st to May 7th, 2023, that then is the category I am most interested in.
And, right now, especially in how my current favorite Korean drama — Doctor Cha — is performing.
A medical-themed romantic comedy that has been rapidly climbing the ratings in South Korea since it premiered on April 15th, with the latest episode — Doctor Cha, Episode 8 — earning more than triple the audience of the drama's first episode.
Yep, Doctor Cha is that popular in South Korea.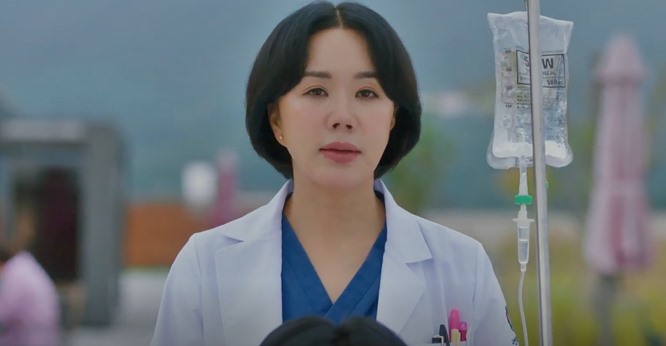 Doctor Cha is very popular with international viewers on Netflix
Interestingly though, it turns out this week that Doctor Cha is also becoming massively popular with international viewers who are mainly watching the K-drama via Netflix.
So much so, according to Netflix's official figures for the week May 1st to May 7th, 2023, Doctor Cha is the sixth most-watched non-English language show on the streaming service.
A massive 15,680,000 hours of the drama have been streamed on Netflix during those seven days.
The Uhm Jung Hwa-led drama is also in the Top 10 in non-English TV in 19 countries on Netflix.
They include Japan, Thailand, Vietnam, Singapore, Taiwan, Kuwait, Oman and Malaysia.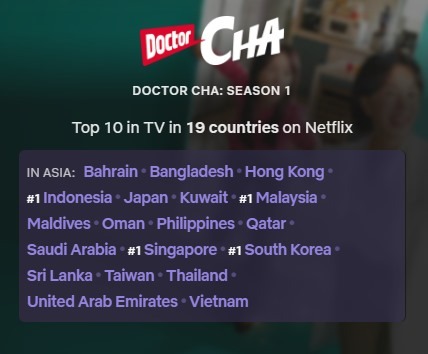 Not bad for a drama that tells the story of a middle-aged housewife who is a licensed doctor, but who walked away from her career to take care of her family.
A family headed by a husband who is having an affair with his 'first love', another doctor at the hospital he works at, and who is vile in the way he treats his long-suffering wife — Cha Jeong Suk (played by the wonderful Uhm Jung Hwa).
No worries though as, after an event that changes Cha Jeong Suk's life, she decides to stop focusing her life around her family and go after what she really wants to do.
Go back to being a hospital intern.
At the same hospital her husband works at, and also where he is having an affair. An affair she does not know about. Yet.
Doctor Cha stars the aforementioned Uhm Jung Hwa (Cha Jeong Suk) as Doctor Cha Jeong Suk, Kim Byung Chul as Seo In Ho her despicable husband, Myung Se Bin as Choi Seung Hee the "mistress" and Min Woo Hyuk as Roy Kim, a surgeon who seems to be falling in love with Doctor Cha.
Watch the official Doctor Cha trailer below and, if you have not yet started watching this funnier-than-anything-I have-seen-in-a-while comedy on Netflix, you really should get started.
When you do, you will quickly see why Doctor Cha is the 6th most-watched non-English TV show on Netfix right now, and climbing.
I am a Brit-American journalist, former radio DJ at 97X WOXY, and Founder/CEO of Leo Sigh. I'm also obsessed with music, anime, manga, and K-dramas. Help!