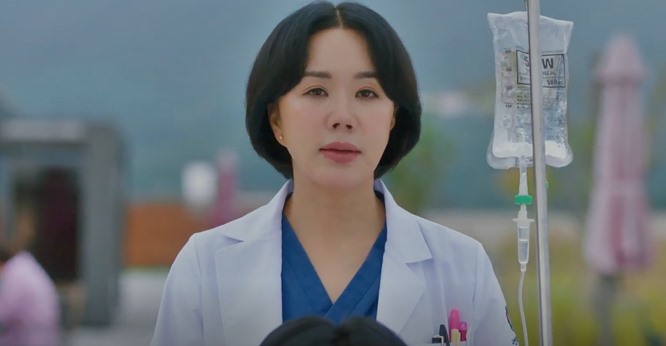 Doctor Cha, Episode 8 ratings continued to skyrocket this week with the latest episode seeing an enormous audience increase from its previous episode.
So much so, Doctor Cha, Episode 8 ratings are now more than triple those of the comedy medical drama's first episode. (4.937 percent nationwide for Episode 1)
Those ratings, according to Nielsen Korea, mean the latest episode of Doctor Cha earned a 16.18 percent audience share for its eighth episode last night nationwide.
That is a huge increase of 3.31 percent over the seventh episode's already excellent 12.87 percent.
In Seoul, the JTBC family drama performed even better with a 16.86 percent share, up from 13.01 percent the episode before.
Both these numbers not only mean Doctor Cha, Episode 8 ratings put the drama firmly in first place for the night, but they also mean the JTBC drama earned the fifth-highest ratings of any drama in that network's history.
Amazing, eh?
Plus, with the show's ratings increasing so rapidly from episode to episode, as more and more people tell friends and family how good it is, by the time Doctor Cha has finished airing on June 4th, it could easily find itself in the Top 3 best-performing JTBC dramas of all time.
Where to watch Doctor Cha, Episode 8
Doctor Cha stars the wonderful Korean actress Uhm Jung Hwa as Doctor Cha.
The equally superb Kim Byung Chul is her scumbag of a husband Seo In Ho, and the talented Myung Si Bin is the woman/now medical professor who is Seo In Ho's first love.
Min Woo Hyuk is Roy Kim, the surgeon who quite likes Doctor Cha.
Of course, if you are in South Korea, Doctor Cha is airing on JTBC. and will continue to air on that network Saturday and Sunday at 22:30 (KST) until its last episode on June 4th.
Outside Korea, international viewers can see the episode and all previous/future episodes on Netflix.
It is a drama, by the way, that international audiences seem to be loving as much as those in South Korea.
Especially as it features older actors, rather than the teens and early 20-somethings we are often subjected to in many Korean dramas.
So far, the users of the My Drama List website are rating Doctor Cha an 8.5 out of 10 and, believe me, if any drama gets above an 8 on that site, it is damned good!
Now, check out an official Netflix clip from the drama to remind yourself how good this one turned out to be.
I am a Brit-American journalist, former radio DJ at 97X WOXY, and Founder/CEO of Leo Sigh. I'm also obsessed with music, anime, manga, and K-dramas. Help!