Halsey was nervous about her Billboard Music Awards solo performance, but she killed it (video)
Halsey nervous about her Billboard Music Awards solo performance
Singer songwriter Halsey was nervous about her Billboard Music Awards solo performance last night. So nervous she even admitted it on camera before the show.
"It's my first time performing by myself on an awards show…I've always performed with The Chainsmokers in the past year because, when it was time to perform a song, nobody was not going to let us play "Closer", so we had to play "Closer".
As for what she was singing, she explained "I'm doing "Now or Never tonight", it's off my next album. My album comes out June 2nd, so hopefully this convinces a whole bunch of people that they love me. I don't know. We'll see what's going to happen".
And when she was asked if she felt pressure while producing her second album, she admitted she did.
"Yeah, I think so. You have the concern "Was it a fluke? Was it an accident?". You know, when you're putting out your first album, you're new so nobody has an opinion on you. Everyone just wants to check it out.
And then, when you're putting out your second record, a lot of people already have an opinion. So it kind of makes me nervous about what's going to happen, but I made the best album I can possibly make and I know my fans are gonna love it".
Related: Halsey's 'Castle' was featured on 'The Royals' and it's cool
And as for the music she is currently loving now?
Her favorite song is "Slide" by Calvin Harris, with two other songs "Shining" and "I'm The One" – both from DJ Khaled — coming second.
"DJ Khaled is killin' it right now," Halsey gushed. "I mean, everyone is putting out such good music. It's collaborative, it's genre-bending. It's a good time for pop music".
Watch Halsey talking about her Billboard Music Awards solo performance, which she killed by the way, in the Billboard video below.
Halsey's album hopeless fountain kingdom will be out in a couple of weeks.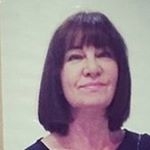 Latest posts by Michelle Topham
(see all)