You know the shit's gettin' real when the Music Supervisor of Lovecraft Country features an Al Jolson song on the horror show's soundtrack.
That classic song was on last night's episode, and was Al Jolson's 'Avalon' — Lovecraft Country, Season 1, Episode 9, "Rewind 1921".
And, if you are not as old as me, you will have no idea who Al Jolson was — and no, I'm not that old!!
Jolson was an enormous star in the United States in the early 1900s and on into the 1920s and 30s. He was known for being a melodramatic singer, actor and performer who released many hit songs.
At one point, he was even America's highest paid entertainer.
While Jolson got his start on the stage in 'blackface' performances, he eventually transitioned to the big screen where he became world-renowned for his portrayal of Jakie Rabinowitz in the iconic film The Jazz Singer.
That film was the first-ever 'talking picture', and also featured six songs sung by Al Jolson. You can only imagine what a sensation the movie must have been at that time, and how fast it catapulted Jolson to superstardom.
Al Jolson's 'Avalon' was released in 1920, seven years before The Jazz Singer, though, and almost a decade after he had his first big hit.
The song was written about the Californian town of Avalon, the only town on Santa Catalina Island. The song hit the #2 spot on the charts when it was released.
Over the years since then, it has had various resurrections in movies and TV shows, with its most notable being in the iconic Christmas movie It's a Wonderful Life, and in The Jolson Story, a movie about Al Jolson's life made four years before his death.
Jolson himself died in 1950 at 64 years old. (article cont. below…)
Listen to Billie Holiday's 'Stormy Weather' from Lovecraft Country, Season 1, Episode 8
During World War II, he contracted malaria while performing for the American troops in the South Pacific and eventually had to have a lung removed.
Only five years later, he was back entertaining the troops, this time in Korea during the Korean War. After he arrived back in the U.S, exhausted from his rigorous tour, he had a heart attack and died.
Listen to Al Jolson's 'Avalon' from Lovecraft Country and, yes, that show is well worth watching. Not only for the superb performances and creepy story, but also for the many wonderful songs on the Lovecraft Country soundtrack that are now being given a second life.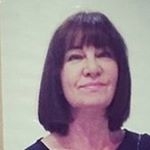 Latest posts by Michelle Topham
(see all)