With the Music Supervisor of the Netflix drama series The Queen's Gambit using a slew of music from the 1950s and 60s for the show's soundtrack, it probably should be no surprise to have that 1960s Gillian Hills' track 'Tut Tut Tut Tut' showing up in an episode — The Queen's Gambit, Season 1, Episode 6, "The Adjournment".
Gillian Hills' 'Tut Tut Tut Tut' was heard on The Queen's Gambit as Beth meets with the lawyer and then decides to clean house.
It is an upbeat chic-sounding song that, if you grew up in the 1960s in France or the UK, you would definitely know already as that track has been a strange cult hit ever since.
As are many of the songs Gillian Hills released in the 1960s as, let's face it, there's something sexy about a woman singing in French. Especially if she isn't French to begin with.
Gillian Hills, by the way, is a British actress who was discovered in France by iconic French film director Roger Vadim when she was just 14-years-old.
Hills went on to make a slew of films in France, and to also move into a singing career from 1960 with her debut EP "Allo Brigitte? Ne coupez pas!". (article continues below…)
Listen to Alexandre Tharaud's 'Gnossienne No 1' by Erik Satie from The Queen's Gambit, Season 1, Ep. 2
Hills recording career carried on until 1965 when she quit the music business to move back to the UK to star in British films.
Seven years after that, she gave up her acting career completely and moved to New York to become a book and magazine illustrator.
Interestingly, however, she reappeared in the music scene in 2018 when, at the age of 74, she released two new singles 'Nefer~titi' and 'Blue Dress'.
In the last two years since then, she has released several more. All of which are quite beautiful. You'll find all of them, plus all of her older work, on Gillian Hills' Spotify account.
Listen to Gillian Hills' 'Tut Tut Tut Tut' from The Queen's Gambit in the official music video for the song below.
There is also a short snippet from one of her first and one of her most iconic films — Beat Girl — in the video below that. And yes, she was, and still is, beautiful.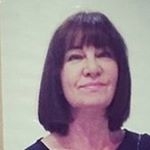 Latest posts by Michelle Topham
(see all)