American singer songwriter Natalie Madigan's 'Anyone' was played on the final episode of Chilling Adventures of Sabrina, Season 4, Episode 2, "Chapter Thirty: The Uninvited", which began streaming on Netflix on New Year's Eve.
The song was played during the scene where Harvey and Roz are talking, and then begin to kiss.
Natalie Madigan's 'Anyone' was released in 2019 on the singer's nine-track debut studio album What's It Like To Be Known.
The song's lyrics speak about a woman who seems surprised to be in love with someone. Especially because that person lives so far away, and both of them have lives that don't currently intertwine.
The problem is, no matter where her life is right now, she feels she is the one who knows him the best, and the one person he is ultimately meant to be with.
Showers at midnight, you at my bedside
Tearin' my heart in two
Under the covers, baby no other
Could fit with you like I do

I know you better than anyone else
I know you better than anyone else
The romantic piano-driven song is lovely enough already with its sweet addictive melody and beat, but Madigan's gorgeous voice causes the track to quickly be a standout.
'Anyone' is one of a number of songs Madigan has released in the last couple of years, all of which feature the same superb vocals. (Learn more about the singer, and listen to Natalie Madigan's 'Anyone', after the promo…)
Listen to Aimee deBeer's 'Heavy is the Hollow of a Mortal Soul' from Chilling Adventures of Sabrina, Season 4
Who is Natalie Madigan?
Natalie Madigan is a Tennessee-based indie singer songwriter who was trained in musical theatre and as a classical pianist as a child.
She is not only a singer songwriter, however, as she also pursued a degree in Audio Production at Middle Tennessee State University (MTSU), so definitely knows her stuff when it comes to producing.
In her Soundcloud profile, she says about her career and her music:
Somewhere along the way songwriting shifted from being a hobby to being a means for emotional survival.

My songs have held me through love, let-downs, depression, anxiety, joy and all the adventures that came in between. I hope my music can make you feel something, too.
'Anyone' is Natalie Madigan's first song licensed for a hit TV series. With how utterly beautiful it is, the track is not likely to be her last.
Listen to Natalie Madigan's 'Anyone' as heard on Chilling Adventures of Sabrina in both the video and on her debut album below.
Learn more about the indie singer songwriter on Natalie Madigan's official website.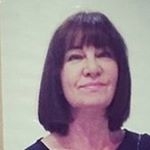 Latest posts by Michelle Topham
(see all)