The British pop rock band The Police's 'Every Breath You Take' was one of a huge number of fabulous 1980s songs featured on the soundtrack of the last two episodes of Season 4 of Stranger Things this week.
In this case, the movie length episode Stranger Things, Season 4, Episode 9, "Chapter Nine: The Piggyback.
The song was played during the scenes at the skate park.
The Police's 'Every Breath You Take' came out in 1983 on the English band's Synchronicity album.
It became the biggest hit of the year in both the United States and the band's home country of the UK, charting at #1 in both countries.
It also hit #1 in Ireland, Israel, Canada, and South Africa, and charted high in a total of 20 countries.
RELATED: Journey's fabulous 'Separate Ways' showed up on Stranger Things this week
The song became mega-popular, not only for its catchy melody and chorus, but also for its creepy message — the idea of a lover who is so obsessed with the person he cares about, he is following her every move.
Sure, no woman really wants that, but it's still nice to think of someone that much in love with you, right?
Listen to The Police's 'Every Breath You Take' from this week's Stranger Things in the song's official music video (gotta love Sting playing the upright bass, eh?), and on the band's remastered Synchronicity album.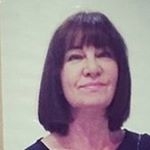 Latest posts by Michelle Topham
(see all)