Since I put together a playlist for when I speed-walk every day, I've been obsessing over Icelandic indie folk rock band Of Monsters and Men. Again. Not just because they are a rocking band to walk to, as their music tends to have the perfect drumming beat for a hard work out, but because all of their songs are so laden with heavy emotion.
Look at 'I Of The Storm', for instance, a track from the band's second studio album and one that is touching enough with just the audio. Pair it with the stunning lyrics video the band released last year, and it's enough to clutch at your soul.
The lyrics video for 'I Of The Storm' features Icelandic actor and make-up artist Atli Freyr Demantur, a friend of Of Monsters and Men lead singer Nanna Bryndís Hilmarsdóttir, who was filmed lip syncing to the song.
But lip syncing with his face made up in a stereotypical drag queen style, and lip syncing with such anguish that he portrays all the gut-wrenching sadness and emotion that profession often conveys.
Watch Of Monsters and Men's lyrics video for 'I Of The Storm' below. And, yes, it is my Repeat Rotation Video today as I just haven't been able to stop myself playing it. If yu love it as much as I do, you can buy the track now.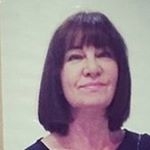 Latest posts by Michelle Topham
(see all)