I am completely in love with the music videos from Japanese pop duo YOASOBI. Not only is the music in them catchy and unforgettable, with lovely melodies and vocals, they also feature some of the most beautiful animated stories you will ever see.
This week, YOASOBI's 'Taishō Roman' was released, along with an utterly gorgeous music video to accompany the song.
Now, as most fans probably already know, YOASOBI always creates and releases songs that are based on short stories or novels.
In the case of 'Taishō Roman', the story is one of the most beautiful yet as, not only is the tale itself lovely, but it has an interesting back story behind it too.
What is the story behind YOASOBI's 'Taishō Roman'?
YOASOBI's latest song and music video are based on the novel Taishō Roman (aka Taisho Romance or大正浪漫 in Japanese) by the author Natsumi.
The novel was written in response to a writing competition run by Sony Music Entertainment Japan last year, with the prize winner not only getting their book published, but also the promise of a song based on the novel to be written by YOASOBI.
The winning novel was announced a few months later, from 2,086 novels that were submitted.
Taishō Roman (Taisho Romance) tells the lovely story of Tokito a boy from the Reiwa Era, aka current day Japan, and Chiyoko, a girl who lives in the Taishō era — an era in Japan that dated from mid-July, 1912 to the end of 1926.
In other words, two young people who lived almost 100 years apart.
Related: YOASOBI's 'Love Letter' music video beautifully animates Hatsune's love of music
But, in a wonder of time travel, Tokito and Chiyoko become pen pals. YOASOBI's 'Taishō Roman' is based on their story.
Natsumi's novel Taishō Roman was published in Japan yesterday. The same day YOASOBI's music video was released.
YOASOBI's 'Taishō Roman' music video
What is so lovely about YOASOBI's 'Taishō Roman' music video is not only that the song itself is beautiful, but that the duo has told the story of Tokito and Chiyoko, with all the emotion the pair must feel towards each other, in a series of colorfully animated scenes — and in just 3 minutes.
In it, we see Tokito and Chiyoko reading one of the letters they have received from the other, as fast scenes comprising kimono patterns, electric household items and clocks fly past behind them.
Tokito, of course, is dressed in modern day clothing, while Chiyoko wears the Japanese dress of the day. A style of fashion that was, for the first time in Japanese history, more westernized. Hence, her western hair style and her more modern Japanese dress.
The distinction between the two eras is kept as Tokito and Chiyoko stand in railway carriages — his like ours of the modern day, while hers are the wood-paneled trains of her era.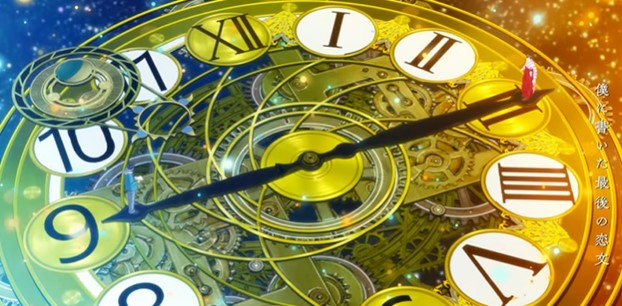 The high energy music video continues with Chiyoko running in search of Tokito, until the pair finally meet while standing on the hands of a clock.
They run towards each other and embrace but, as quickly as they find each other, they are lost to the other again as Chiyoko fades in an explosion of light.
Watch YOASOBIi's beautful 'Taishō Roman' music video below, and then listen to the song on all these different platforms.
If you speak Japanese, or even if you don't but are interested in owning Natumi's Taishō Roman, you can buy the book along with books/stories that are the foundation of other YOASOBI songs on Futabasha's website.
If you want your purchase mailed outside Japan, a reputable proxy shopping service can help you do that.
I am a Brit-American journalist, former radio DJ at 97X WOXY, and Founder/CEO of Leo Sigh. I'm also obsessed with music, anime, manga, and K-dramas. Help!