Los Angeles-based indie synth pop/folk pop band DYAN's 'Reality' was featured on the Netflix series Virgin River this week — Virgin River, Season 2, Episode 2, "Taken By Surprise".
The song was heard playing after Mel's car has broken down and as Jack hugs her.
DYAN's 'Reality' is from the band's debut studio album Looking For Knives, which was released in 2016. (Listen below).
It is also one of a number of songs DYAN has had featured on hit TV series.
Most notably the gorgeous title track from the album 'Looking for Knives', which appeared on Into the Dark and Lucifer, and 'The Push', which was played on Shadowhunters: The Mortal Instruments and on the supernatural drama Light as a Feather.
Both are songs that sound both majestic, but also ethereal and mysterious.
Something that also carries over into the trio's music videos, as they tend to use drone footage of gorgeous but stark landscapes that are beautiful while being chilling in their emptiness.
And yes, you can definitely tell Alexis and Samuel are also film composers, as every song they create has that cinematic quality to it.
Band members Alexis Marsh and Samuel Jones composed and wrote the lyrics for the songs on their debut album for several years, before being joined by now-third member of the group Dan Dorff Jr. in 2016, when they began recording.
He has remained with them since. (continue reading below…)
Listen to Tom Rosenthal's 'Hugging You' from Virgin River, Season 2, Ep. 3 and watch his lovely video
Listen to the gorgeousness that is DYAN's 'Reality' as played on Virgin River in one of their stunning music videos below, and make sure you do as the band suggests — watch the video on full-screen.
It really is a wonderful reminder about the reality of most of the world that few of us, living in built up places as we do, will ever see.
You can buy DYAN's Looking for Knives album on Bandcamp.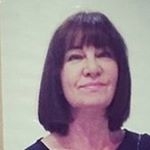 Latest posts by Michelle Topham
(see all)