Lee Dong Wook stills show the actor back in 1938 Korea
Even though South Korean actor Lee Dong Wook will be 42-years-old later this year (well, he is already 42 in Korean years, but that's a different story), he certainly doesn't seem to be losing any of his beauty as he ages.
So much so, the Tale of the Nine-Tailed 1938 stills released so far seem to prove the actor is not only as beautiful as always, he almost seems not to be aging at all.
Tale of the Nine-Tailed 1938, of course, is the upcoming sequel to the massively popular Korean fantasy drama Tale of the Nine-Tailed, which featured Lee Dong Wook in the lead role of Gumiho Lee Yeon, and aired in 2020.
Now, with its sequel due to premiere later this month, there have been a slew of Tale of the Nine-Tailed 1938 stills coming out via tvN in the last few weeks promoting the drama.
Lee Dong Wook has been featured prominently in many of them.
Then again, any true Tale of the Nine-Tailed fan will tell you, we are desperate to see the new drama because of Lee Dong Wook and, in many cases, also because of second male lead Kim Bum, who plays Lee Yeon's brother Lee Rang.
So, yes, please keep these stills from the drama coming as appreciating Lee Dong Wook's beautiful face is just getting us (me) excited for the drama itself.
The recent Tale of the Nine-Tailed 1938 stills of Lee Dong Wook released show the actor in period dress, presenting a huge bouquet of roses to his former love ex-mountain god Ryu Hong Joo (played by Kim So Yeon), and firing a rifle he is steadying on someone's shoulder.
In another still, Lee Yeon is obviously in a rush to get somewhere as he is frantically checking his watch.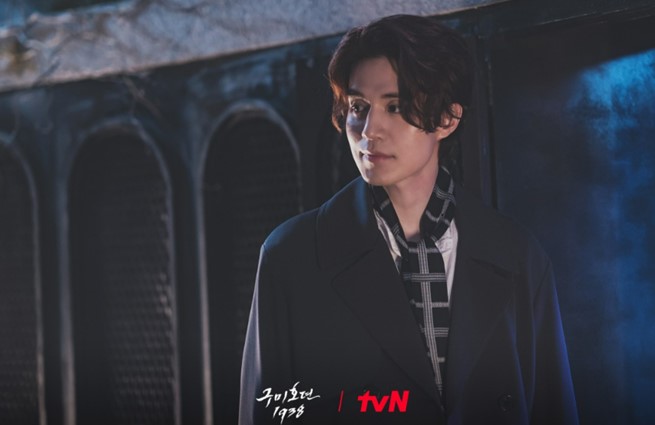 All of the stills hint at a period drama comprising gorgeous costumes, an authentic story line and, of course, lots and lots of eye candy.
Tale of the Nine-Tailed 1938 stars Lee Dong Wook, Kim So Yeon, Kim Bum, Ryu Kyung Soo, Hwang Hee and Kim Yong Ji.
The 12-episode drama premieres on tvN in South Korea on Saturday, May 6th. New episodes will be out every Saturday and Sunday at 21:20 (KST) after that on the same network.
Outside Korea, the fantasy drama will air internationally via Amazon Prime Video soon after.
Until then, watch the latest Tale of the Nine-Tailed 1938 trailer and, of course, enjoy the Tale of the Nine-Tailed 1938 stills featuring Lee Dong Wook.
Because you don't get beauty like that every day, eh?
There is also the official tvN trailer without English subtitles down there for true fans to peruse as well.
RELATED: Tale of the Nine-Tailed 1938 poster shows every main character looking strong and fierce
I am a Brit-American journalist, former radio DJ at 97X WOXY, and Founder/CEO of Leo Sigh. I'm also obsessed with music, anime, manga, and K-dramas. Help!